The Serengeti, Victoria Falls, and southern Kruger National Park all offer exceptional safari experiences, but for those travellers wanting an African safari without the crowds, it may be time to look at the road less traveled – walking safaris.
Walking safaris are a great option for second-time safari goers, or those more adventurous travellers. You'll explore wilderness areas on the ground, have close encounters with mammals on their turf, and become familiar with an amazing array of plant and animal life.
Pafuri Walking Safari, Kruger National Park
On game drives you'll cover a lot of ground, and often get closer to game than on foot, but a walking safari allows you to experience the wonder, and adrenalin, or being an active participant as opposed to a camera-wielding observer.  You'll take in the small details that you inevitably miss on a 4×4 vehicle – the buzz of grasshoppers, the leopard tracks in the sand, and the many and varied bird calls of the African bush.
On the Pafuri Walking Safari you'll spend four days exploring the remote Pafuri region of famous Big Five country, the Kruger National Park.  Experienced guides will make sure you don't miss a thing, and that you are safe while walking.
This area of Kruger is known for its incredible biodiversity, and you will talk through fever tress forests, lush riverine forests, and groves of towering baobabs.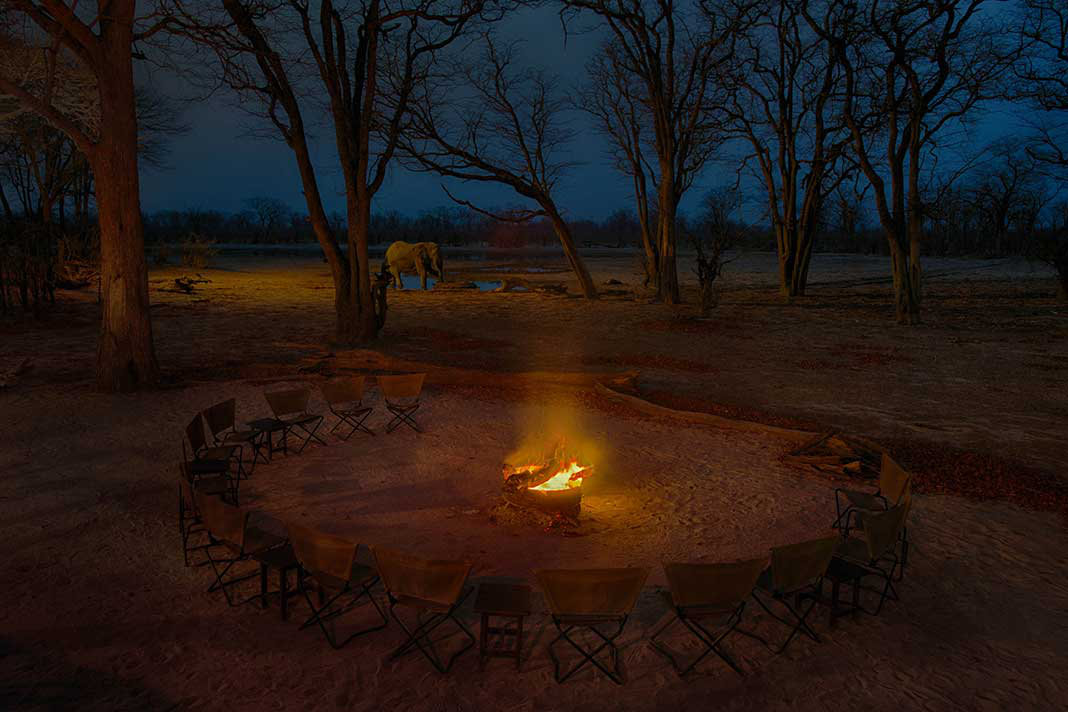 By far our most exciting and remarkable safari, and a once in a lifetime experience for first time safari goers, and seasoned travellers alike!
On this unique safari, you will spend three days walking with wild bull elephants in the Khwai Private Concession area in Botswana.  Each day you and a private, highly skilled guide and tracker will set off into the bush, along the ancient migratory routes of the bull eles, and follow in their footsteps as they move from water hole to water hole.
As there are no breeding herds, females or young elephants in this region of Botswana, the old giants that are making their way through the Khwai are calm and peaceful, so there is very little risk to walkers.
At night you'll sleep on elevated platforms (above elephant height), and listen to the many and varied sounds of the African night, with elephants murmuring and munching below and a bright carpet of stars above.
This tour takes you to a variety of remote and often seldom visited wilderness areas in South Africa and Swaziland, and you'll spend two weeks exploring on foot and in vehicles.  This offers the best of both worlds – an experience of the minutiae of the African bush on foot, as well as up-close encounters with large mammals from the safety of a vehicle.
Walking in Big Five country is a sure-fire way to get the adrenalin pumping!  You'll spend three hours walking in a private game reserve en route to the Kruger National Park, and a highly skilled ranger will impart their incredible knowledge of the area.
The Malalotja Nature Reserve, in Swaziland, is mountainous, deeply beautiful, and largely unexplored by tourists.  The tour allows you to spend a full day hiking in this unspoilt reserve, taking in the glorious views and wildlife.
Next we move to the Isimangoliso Wetland Park, a UNESCO World Heritage Site.  We spend a few hours traversing this unique and incredible region of South Africa, taking in the remarkable combination of estuarine lakes, subtropical coastline, forests and diverse wildlife.
The final few days if the safari take you to the KwaZulu-Natal battlefields, and area steeped in history and battles between the Zulu, British and Boer troops, and the magnificent Drakensberg mountains.  Here you'll hike, drink from clear mountain streams, and take in the heady views from the towering mountain range.
Need help planning your African safari?  Speak to one of our safari experts.