Contrary to popular belief it is possible to find awesome and affordable safari options in Southern Africa, while not compromising on outstanding wildlife encounters and incredible experiences.
Below our our top tips for planning a budget-friendly African safari experience.
Travel out of peak season
Lodge rates per night drop enormously in off-peak travel periods, and another bonus of travelling in the quieter months is that you are more likely to have camps and wildlife sightings all to yourself.
The off-peak season in Botswana (the 'green' or rainy season) is from November to April. You'll find the landscape transformed into a green, lush oasis, with new shoots and unexpected flowers popping up out of the ground almost while you watch, and dry salt pans metamorphosing into shallow lakes full of pink flamingoes and pelicans. It's also the time of year when antelope all over the region drop their young, all at once as if on cue! You'll find hundreds of gangly lambs, newly born, and close on their heels, predators hoping for an easy meal.
Not only do antelope birth their young during the green season, but they also gather in huge herds and travel across the country. Undoubtably the best place to view the migration in all its glory is in the Kalahari. The transformation of this region in the green season is remarkable! From dusty, barren and unforgiving, to lush, emerald and full of life! Enormous herds of zebra and wildebeest wind their way into the Makgadikgadi Pans, elephant amble into the Nxai Pan National Park, and the Central Kalahari Game Reserve comes alive with springbok and their lambs, all followed closely by gluttonous and full-to-the-brim lion and cheetah.
View the migration on a luxury Kalahari camping safari.
South Africa also offers excellent out-of-season safari options, as its camps are open year-round. Winter (May – July) is the best time to visit, with cooler weather, excellent animal sightings, and lower prices.
Many lodges run special offers over the quieter, off-peak months, and it's a good idea to keep a look out for amazing deals. Check out our Botswana special, where you can spend 6 days exploring the Okavango Delta and Chobe, and only pay for four nights.
Consider different accommodation options
You'll find more than just luxury lodges available in Southern Africa.  You'll also have the choice of more mid-range lodges, as well as rustic, but well-maintained, government-run chalets, and excellent campsites (some in locations you'll be hard-pressed to beat!).
The Kruger National Park remains one of the best national parks in Africa and consistently delivers excellent game viewing, including the coveted Big Five. The Park offers a variety of accommodation options, from high-end luxury lodges, to more basic chalets and excellent campsites. In fact, the cheaper government-run camps are in some of the most magical locations, many are small and remote, and all our prized by those in the know for their authenticity and proximity to wildlife.
Kruger also offers exciting walking safaris, an opportunity to go on foot into big game country. These are well-priced camping safaris, and offer a truly unique safari experience.
An 'adventure safari' is designed for those travellers looking for an affordable safari option, and who enjoy camping and want to be part of the day-to-day running of the camp. For us this is the best of both worlds – you'll explore extremely remote wilderness areas, and camp wild, but all with a safari guide on hand.
One of our favourite routes takes you from Kruger, through the highlights of Zimbabwe (including the Victoria Falls), ending in Botswana's wildlife wonderland, the famous Okavango Delta.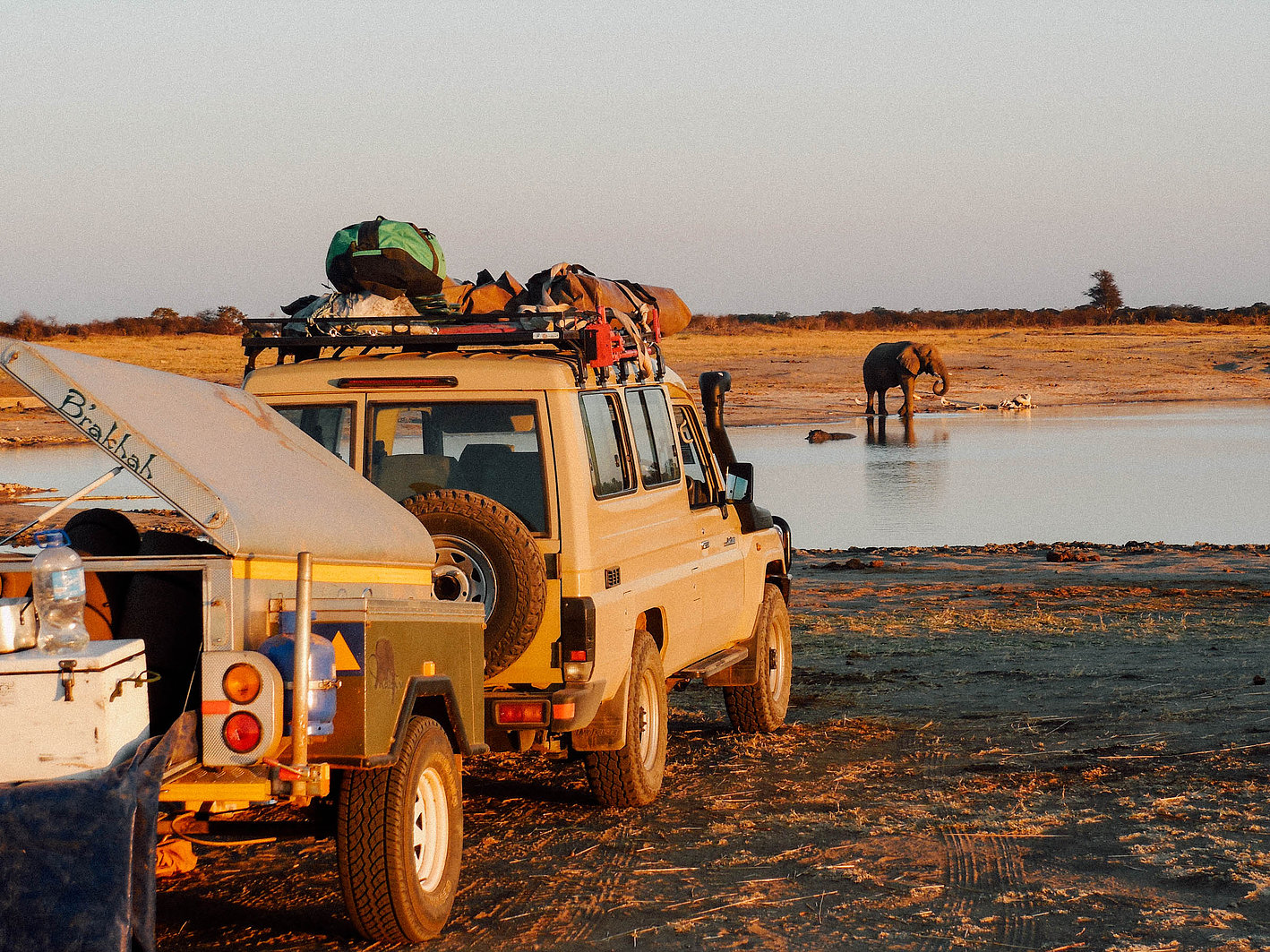 Self drive
Do what most South African families do, and hit the road!  Self drive safaris are perfect for those with a sense of adventure, and perfectly safe on the well maintained roads of Namibia, South Africa and Botswana. You'll save on air transfers and have the freedom to make your itinerary up as you go along.
Spend nine days driving through South Africa's glorious Garden Route, or 11 days exploring the wildlife haven of Botswana.
No matter which affordable safari option you choose, you'll end up with plenty of travel savings, as well as an African adventure that's tough to beat.
Download our free digital travel guide to the best affordable safaris in Southern Africa.