Peak tourist time in Botswana is during the northern hemisphere summer holidays – winter time (and the dry season) in Botswana. This means sparse vegetation and easy to spot game.  It also means that this prime wildlife destination becomes pretty busy with other safari goers, and prices are elevated to match.
There is however a lot to be said for travelling during the rainy, or green, season – November to April. You'll find the landscape transformed into a green, lush oasis, with new shoots and unexpected flowers popping up out of the ground almost while you watch, dry salt pans metamorphosing into shallow lakes full of pink flamingoes and pelicans, and dramatic cumulonimbus clouds and incredible light just begging for a photographer's lens.  It's also the time of year when birding in Botswana goes from fantastic to sensational, with migrant birds arriving back from Europe, Asia and North Africa.
The warmer weather of spring is also the time when antelope all over the region drop their young, all at once as if on cue!  You'll find hundreds of gangly lambs, newly born, and close on their heels, predators hoping for an easy meal.  It's high drama, and a time of year that never disappoints when it comes to incredible sightings of big cats on the hunt.
Not only do antelope birth their young during the green season, but they also gather in huge herds and travel across the country. Witnessing the migration spectacle in Botswana, one of the largest migrations in Africa, is certainly one of the top reasons to visit in the rainy season!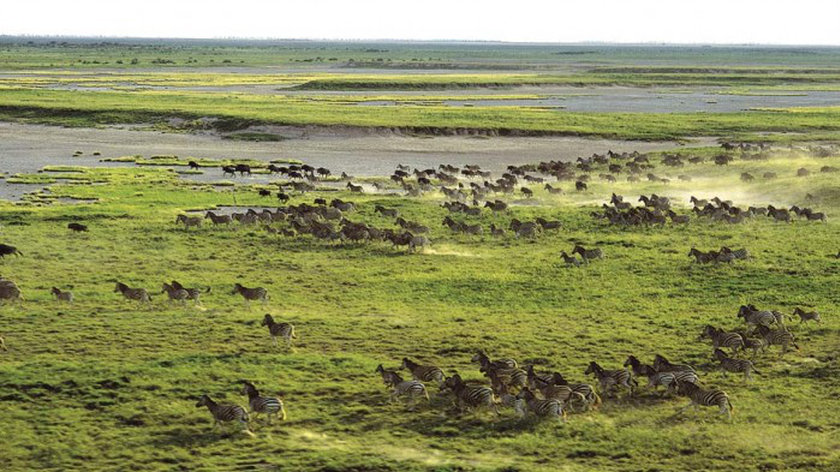 Undoubtably the best place to view the migration in all its glory is in the Kalahari.  The transformation of this region in the green season is remarkable!  From dusty, barren and unforgiving, to lush, emerald and full of life; the contrast is incredible!
Enormous herds of zebra and wildebeest wind their way into the Makgadikgadi Pans, elephant amble into the Nxai Pan National Park, and the Central Kalahari Game Reserve comes alive with springbok and their lambs, all followed closely by gluttonous and full-to-the-brim lion and cheetah.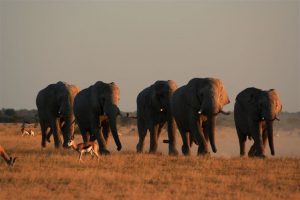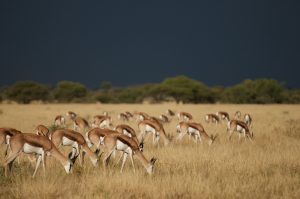 The only drawback to travelling during the green season are the high daytime temperatures and intermittent rain.  You can expect afternoon thundershowers, but also many cloudless days.  The best time to travel is earlier in the season – November to January.
In my opinion, a little rain is a small price to pay for travelling when Botswana is undoubtedly at its most beautiful, and when one can witness the marvel of the migration.
View the migration on our Kalahari Luxury Camping Safari.