This 16 day premium safari visits the highlights of Namibia, from the towering red dunes of Sossusvlei and Dead Vlei, to the teeming wildlife of the incredible Etosha National Park.  You will visit two UNESCO and one RAMSAR World Heritage Sites, and experience the Damara and San cultures.
Namibia is at the forefront of conservation, with the largest free roaming black rhino and cheetah populations in the world, and the largest conservation area covering the entire Namibian coastline. Guests will be exposed to these incredible conservation efforts, and have a look at the 'behind the scenes' actvities required to keep Namibia as a wildlife haven.
SUGGESTED ITINERARY
Day 1 & 2: NA'ANKUSE WILDLIFE RESERVE (Naankuse Lodge)
After arrival at Windhoek International Airport you will be met by our Transfer Service who will take you to the Naankuse Wildlife Reserve. This organisation plays a fundamental function in Namibia's ecological conservation efforts by protecting and conserving protected game species and also monitoring translocated carnivores and other species (such as Rhino) on a continuous and intensive basis. The afternoon is spent with a Bushman community, who will reveal their ancient culture, tradition and survival skill on a bush walk safari.
The following morning you'll enjoy a delicious buffet breakfast at the Lodge with the sanctuary's owner, Marlice van Vuuren, before she takes you out to the sanctuary to meet some of the animals and to give you a deep insight into Na'ankuse's important function. You will get to see the colourful Wild Dogs playing, meet some of the cheetahs, and have the rare opportunity to walk with tame caracals through the veld. You will also spend time with tame cheetahs as well as getting to see behind the scenes animal food preparation area, learn more about the carnivore conservation project, and meet the San Bushman community.
Included meals: breakfast x1, lunch x1, dinner x2
Day 3: SOSSUSVLEI (Little Kulala Lodge)
After breakfast and a transfer to Windhoek, meet your pilot/guide for the rest of the journey lying ahead, and travel to the Namib Desert, the oldest desert in the World. In the evening we admire the mighty play of shadows and colours that the setting sun casts onto some of the highest dunes on Earth at Sossusvlei. Experience the desert's elusive grandeur and breath-taking beauty in this pristine environment while enjoying a sun downer drink, before returning to your lodge for dinner
Included meals: breakfast, lunch & dinner & all drinks
Day 4 & 5: NAMIB NAUKLUFT PARK (Wolwedans Dune Lodge)
Departing an hour before sunrise, travel between monumental dunes towards Sossusvlei, and watch in awe as the fresh sunrays paint the highest sand dunes on earth into a kaleidoscope of colours and shades. At Sossusvlei and Dead Vlei, both of which belong to Namibia's newest World Heritage Site, experience clambering onto the dunes to adore the surrounding landscape overshadowed by some of the highest dunes on earth.  Afterwards we will travel to the to the private NamibRand Nature Reserve. Your lodge is nestled amidst the dunes and bare rock mountains in the north of the 200'000 hectare reserve, is set against a backdrop of unparalleled beauty and provides the perfect base from which to explore vast stretches of awe-inspiring nature on guided walks or nature drives.
Day 5 gives you the entire day on the NamibRand Nature Reserve or take part in a highly worthwhile activity is drifting over the desert in a hot-air balloon during sunrise (included except for the month of February or if weather does not permit flights). Afterwards breakfast is enjoyed amidst the dunes of the desert. Activities offered consist of nature drives on the private property or scenic guided walks. The lodges' specialist guide explains to you in detail the flora and fauna found in this untouched environment, home to specially adapted animal species such as oryx, springbok, giraffe and even leopard.
Included meals: breakfast, lunch & dinner & all drinks
Day 6 & 7: SWAKOPMUND (Strand Hotel)
Your adventure then takes you along the endless Namib Desert to the Atlantic Ocean, where you can see Sandwich Harbour and the Walvis Bay Lagoon, both of which are internationally acclaimed RAMSAR heritage sites and the world's largest breeding area of the lesser flamingo. Having arrived in Swakopmund you have the rest of the day at leisure.
Day 7 promises both relaxation and adventure. On a marine cruise on the calm waters of the Walvis Bay peninsula, enjoy interaction with cape fur seals, dolphins, leather back turtles and maybe even seasonal whales and orka's, whilst sipping cold sparkling wine and savouring the taste of fresh oysters and snacks. The afternoon is at leisure.  Swakopmund offers a wide variety of activities including scenic flights, quad biking, dune boarding, desert explorations and much more.
Included meals: breakfast, lunch & dinner
Day 8: DAMARALAND (Mowani Mountain Camp)
After a leisurely breakfast, depart for Damaraland and the Mowani Mountain Camp, set between the lush and life-sustaining Ugab and Huab Rivers.
"Mowani" means "Place of God" and it is here that you will find the true meaning of peace and tranquillity. Lunch is followed by a siesta and an afternoon excursion to the ancient rock engravings at Twyfelfontein, a world heritage site considered being the largest open-air museum in Southern Africa.
Included meals: breakfast, lunch & dinner
Day 9 & 10: DAMARALAND (Desert Rhino Camp)
After breakfast, a scenic route takes you into the northern parts of the Damaraland area and to the world-renowned Desert Rhino Camp in a sweeping valley scattered with euphorbia and ancient welwitschia plants. It is situated amongst rolling, rocky hills of the 450 000-hectare Palmwag Concession and, together with the Save The Rhino Trust, oversees the protection and study of the largest free-ranging population of black rhino in Africa. In the afternoon enjoy a game drive in this tranquil, minimalistic and untouched area, where you stand the chance to view a surprising wealth of arid-adapted wildlife. In the evening you are joined by a wildlife specialist who will give an interesting talk about the efforts of the Save The Rhino Trust.
Day 10 is spent on the concession in search of the Desert Rhino. This is done in the vehicle and on foot, depending on the terrain where the rhinos are currently living in. Your guide and tracker have a wealth of information to share with you, not only on the specially protected black rhino, but also on all other Flora and Fauna in the mountainous concession. After a fulfilled day return to camp for dinner under the stars.
Included meals: breakfast, lunch & dinner & all drinks
Day 11: ETOSHA NATIONAL PARK (Ongava Lodge)
After Breakfast, travel through the Damaraland to the Ongava Game Reserve situated on a huge private game reserve on the south western side of the Etosha National Park. Consisting of a variety of vegetation zones, this game reserve is home to a wide variety of animal species, after a sundowner drink enjoy dinner in the open restaurant, which awards you a great view onto a flood-lit waterhole.
Included meals: breakfast, lunch & dinner
Day 12 & 13: ETOSHA NATIONAL PARK (Onguma Tented Camp)
After breakfast enjoy a full day game drive in the Etosha National Park. With its 114 different animal and 340 different bird species, this park belongs to the world's most diverse wildlife parks, and promises to be an unforgettable game experience. The park surrounds a parched salt desert known as the Etosha Pan. The park is home to 4 of the Big Five – elephant, lion, leopard and rhino – its waterholes supporting a rich diversity of birds and mammals, including rare species such as black-faced Impala, roan, cheetah, and Namibia's smallest antelope, the Damara dik-dik. Your lodge for the following nights serves as a conservation breeding ground of the black rhino.
On an afternoon enjoy a guided bush walk with an experienced game ranger, who will introduce you to the conservation efforts of the Onguma game Reserve and show you new and exciting animal and bird species not encountered before on your safari.
Included meals: breakfast, lunch & dinner & all drinks
Day 14 & 15: AFRICAT FOUNDATION (Okonjima Bush Camp)
This morning your journey continues to Okonjima, home to the AfriCat Foundation, a non-profit organisation committed to the long-term conservation of Namibia's large carnivores, where your luxurious camp is situated in a secluded spot within the wildlife reserve. In the afternoon you have the option of a variety of activities on offer, some of which include nature walks, cheetah or leopard tracking, or alternatively join one of the guides at the Africat Research centre to explain the important function the AfriCat Foundation plays in the Namibian conservation efforts. Enjoy a drink around a campfire, before enjoying dinner in the African-style restaurant.
You have a full day on the property of the lodge. Your guide will inform you about the choices of activities possible for the day. Enjoy the day out in nature with the abundance of animal and bird life within spectacular scenery – Okonjima is a nature lover's and photographer's paradise alike.
Included meals: breakfast, lunch & dinner & all drinks
Day 16: WINDHOEK – SAFARI ENDS
After an optional morning walk and breakfast, travel back to Windhoek, well in time for your outward flight from the international airport, from where you bid your guide farewell and embark on your onward journey.
Included meals: breakfast 
Price:
Travel by air – without guide:
R 190 080.00 per person sharing (01Jul19 – 31Oct19)
R 200 065.00 per person sharing (01Nov19 – 30Jun20)
R 209 000.00 per person sharing (01Jul20 – 31Oct20)
Travel by road – with safari guide:
R 190 080.00 per person sharing (01Jul19 – 31Oct19)
R 194 110.00 per person sharing (01Nov19 – 30Jun20)
R 208 175.00 per person sharing (01Jul20 – 31Oct20)
PLEASE NOTE:
The above price is based on 2 people traveling. If more than 2 people travel there is a price reduction – the larger the group, the bigger the price reduction. Please let us know how many people are in your group when making an enquiry.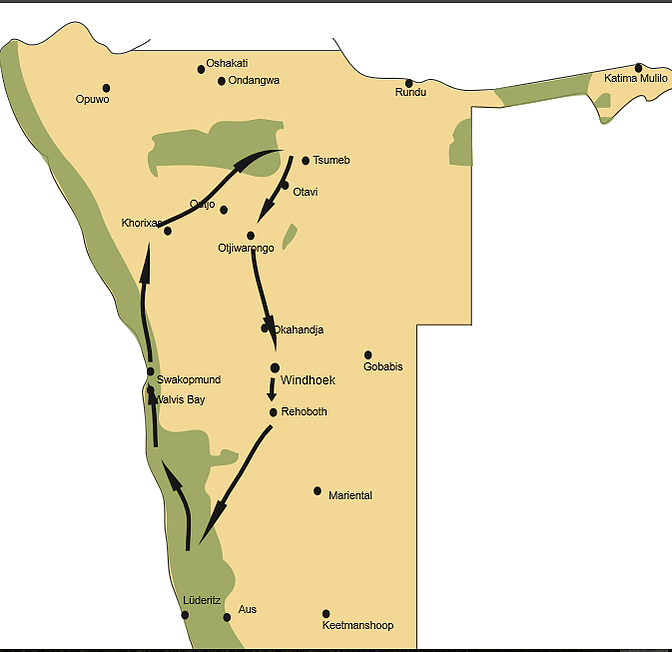 HIGHLIGHTS
Exceptional game viewing in Etosha National Park 

Rock paintings in Damaraland

Dune boarding & quad biking in Swakopmund 

Climbing the massive Sossusvlei dunes

Visiting two UNESCO and one RAMSAR World Heritage Sites

Black rhino sightings

Supporting wildlife conservation in Namibia
PRICE INCLUDES
Entry fees to national parks & nature reserves

All meals as specified in the itinerary (15 Breakfasts, 14 Lunches, 15 Dinners).

Activities as specified

Accommodation as specified

Tourism levy & Government Taxes where applicable

All inter-camp transfers in 4x4s, & light aircraft.

24hrs Medical Evacuation Insurance
Let us help
We specialise in creating tailor-made, exceptional safari experiences to the best wilderness areas in Southern Africa. 
While we do offer set itineraries and packages, our regional specialists are experts at creating bespoke safaris to match your wish list, budget, specific requirements, and travel dates.  
Need help?