A 14 day journey through remote areas of Namibia, rarely explored by others.  You will see the immense dunes of Sossusvlei, the incredible marine life of Swakopmund, the dramatic landscape of the Skeleton Coast, and the rugged beauty of the Palmwag Concession, home to endangered black rhino.
Most of the safari is by road, with two scenic flights included, which will give you an incredible perspective of Namibia's wild and stunning landscapes.  
ITINERARY
Day 1 & 2: NAMIB DESERT(Kulala Desert Lodge)
You will be met by your guide in Windhoek guide and begin your journey by driving through the Khomas Hochland mountains and down into the dune-filled Sossusvlei region, a driving time of approximately five to six hours (330 kilometres).
As the perfect gateway to the iconic sights of Sossusvlei, Kulala Desert Lodge is a favourite among our travellers. Magnificent views of the famous dunes, surrounding mountains and vast open plains will be the setting during your stay. The camp comprises en-suite thatched and canvas 'kulalas' and a veranda for you to enjoy the outstanding scenery. On balmy nights, sleep under the clear night skies on your rooftop and awaken to the rising sun. By day, enjoy the activities or spot desert-adapted wildlife from the lounge and dining area overlooking a waterhole. To escape the midday heat a cooling plunge pool provides the ideal sanctuary.
During you stay you will explore the famous red dunes of Sossusvlei and the 37 000-hectare private reserve where you will discover life in one of the world's oldest and most arid deserts.
Included meals: breakfast, lunch & dinner – and all drinks.
Day 3 & 4: SWAKOPMUND(Hansa Hotel)
Depart camp early and drive through the snaking roads of the Kuiseb Canyon and out onto the expansive gravel plains, eventually arriving in Walvis Bay before moving north into the quaint town of Swakopmund, a drive of about 5 – 6 hours (approximately 370 km). The afternoon is free to explore the seaside town of Swakopmund.
The Hansa Hotel is Namibia's oldest hotel, and consistently one of the best, the Hansa has retained its 100-year-old charm while providing present-day service and comfort. The bedrooms are spacious and tastefully appointed, with a blend of modern luxury and antique décor. Interesting photographs from the past adorn the walls along the carpeted passages. A short walk will bring you to the heated Olympic-sized indoor public swimming pool, the museum, lighthouse and Kristall Galerie, as well as several good restaurants if you wish to try an alternative to the Hansa's tasty fare.
On Day 4, you'll explore the ice-blue Atlantic coast with a "Dolphin and Seal" catamaran cruise from Walvis Bay (weather permitting) for a marine educational sightseeing tour in the bay area in search of the marine big 5: Whales, Dolphins, Mola, Leatherback turtle and seals. While serving hot coffee and tea, the initial route takes you past oyster farms and Pelican Point with its 60,000 resident cape fur seals. In season (July to November), larger mammals such as the Southern Right Whale and Humpback Whales are often spotted, while other whale species, such as the Gray whale and the Pygmy Right whale have made appearances. Bottlenose, Heaviside and Dusky dolphins are regularly seen, as are Mola Molas and Leatherback Turtles. Accompanying the catamaran throughout the are a variety of seabirds, such as the Kelp Gull, Hartlaub's Gull, Pelicans and Cape Cormorant. The journey from Pelican Point takes you past some of the more interesting ships and oil rigs in the bay as you are served fresh oysters with sparkling wine, savoury snacks and desserts together with light drinks, cool drinks and water.
Included meals; breakfast x2, lunch x1, dinner x1
Day 5: DAMARALAND(Damaraland Camp)
We continue our journey by road for approximately 5 hours (280 kilometres / 174 miles) partly up the legendary Skeleton Coast (named for the numerous shipwrecks the treacherous shores have claimed over the years). From here we drive the back roads through the game productive Ugab riverbed, travelling north past the Brandberg Mountain – the second largest monolith on earth – to Damaraland. This all-day excursion with lunch en route ends with our arrival at Damaraland Camp.
Set in the Huab River valley, Damaraland Camp is situated in arguably one of the most pristine wilderness areas in Namibia. Endless vistas across stark plains, ancient valleys and stunning ochre-purple mountains will be the backdrop during your stay. The staff invite you into one of ten large adobe-style thatched units raised off the ground for sensational vistas. Each includes a walk-in dressing room, en-suite facilities and a deck from which to contemplate the desert. Entertainment while at camp will be in our spacious living area complete with a swimming pool. An open campfire will keep you warm and you can dine traditionally in our boma under clear night skies.
Included meals: breakfast, lunch & dinner – and all drinks.
Day 6 & 7: DAMARALAND(Desert Rhino Camp)
On day 6 you will drive into the Huab riverbed to search for desert-adapted elephants, before heading north to the mountainous and rocky paradise of the massive Palmwag Concession. The speciality of the area is its growing population of the rare desert-adapted black rhino (the largest concentration in the world outside a national park), which are monitored and protected by Save the Rhino Trust.
At Desert Rhino Camp you will take part in a thrilling and exclusive conservation success story. Tracking Africa's unique and endangered desert-adapted black rhino is an unforgettable experience. To set the scene, you will be shown into one of the eight en-suite Meru-style tents elevated off the ground. You can absorb the panoramic views over the rolling, rocky hills beyond from the privacy of your veranda. Full day excursions are on offer; otherwise, between activities, relax in the tented living area. Evening meals are taken around the fire pit. As a wonderland of unusual plant life, fascinating wildlife and sparse wilderness, Desert Rhino is begging to be explored.
Included meals: breakfast, lunch & dinner – and all drinks.
Day 8, 9 & 10: SKELETON COAST(Hoanib Skeleton Coast Camp)
This morning we drive to Doro Nawas airstrip for a light aircraft transfer to Hoanib Skeleton Coast Camp. A land of rugged scenery, this remote part of Namibia is famed for plant and animal life that has adapted superbly to the harsh environment of mountains, vast plains, dunes and dry riverbeds.
Hoanib Skeleton Coast Camp is located on the Hoanib River in the northern part of the private Palmwag Concession. Its location straddles the Palmwag area and Skeleton Coast National Park, in one of the most remote areas of the Kaokoveld. Exclusivity is taken a step further as the camp comprises only seven twin-bedded tents and one family unit. The camp looks out over stunning yet rugged scenery and offers you all the luxuries and amenities needed for an unforgettable stay. A bewitching and splendid part of the planet, you can unravel the enigmatic history of the original Strandlopers (Beachcombers), their stone circles lying in hidden valleys, studying the ancient Welwitschia plant, viewing the herds of desert-adapted wildlife, to savouring the endless landscapes unfolding – untouched – for hundreds of kilometres.
Included meals: breakfast, lunch & dinner – and all drinks.
Day 11, 12 & 13: ONGAVA GAME RESERVE(Ongava Game Lodge)
We fly to Doro Nawas airstrip on the morning of day 11 before driving to Ongava Game Reserve on the boundary of Etosha National Park. Etosha remains the highest density wildlife area within Namibia, its fame justly acknowledged. Your stay here will allow you time to explore both Etosha National Park as well as the Ongava Game Reserve.
Set on the slopes of the unpronounceable Ondundozonanandana Mountain, Ongava Lodge overlooks a productive waterhole and the impressive landscape beyond. Settle into one of the 14 en-suite chalets built within a web of mopane trees with a deck stretching out over the vast plains. In between activities, refreshments will be served in the thatched main area or at the swimming pool. In the evenings, dining under the stars while being entertained by wildlife at the waterhole will become a favourite pastime. Situated within its own private reserve, only a stone's throw from the world-famous Etosha National Park, you can look forward to a fascinating stay at Ongava
Included meals: breakfast, lunch & dinner – and all drinks.
Day 14: WINDHOEK – TOUR ENDS
Driving 420 kilometres south, you return to Windhoek at 13h00 and bid farewell to your adventure.
Included meals: breakfast
Price:
R 157 225.00 per person sharing (01Jul19 – 31Oct19)
R 132 595.00 per person sharing (01Nov19 – 30Nov19)
R 128 045.00 per person sharing (01Dec19 – 31Dec19)
R 140 475.00 per person sharing (01Jan20 – 31May20)
R 164 330.00 per person sharing (01Jun20 – 30Jun20)
R 171 255.00 per person sharing (01Jul20 – 31Oct20)
R 145 240.00 per person sharing (01Nov20 – 30Nov20)
R 140 475.00 per person sharing (01Dec20 – 31Dec20)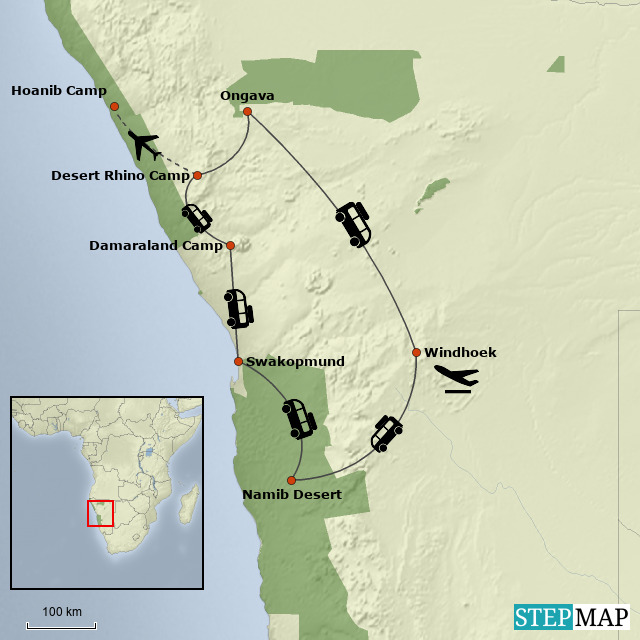 HIGHLIGHTS
Climb the world's highest dunes at Sossusvlei

Track rhino on foot

Exceptional sea and land-based wildlife viewing

See Cape fur seal colonies, desert adapted wildlife and dramatic shipwrecks on the Skeleton Coast

Explore the extremely remote Hoanib Camp, home to rare desert lion
PRICE INCLUDES
Accommodation as specified

All meals (excluding dinner on the second evening in Swakopmund)

A reasonable amount of soft drinks, mineral water, fruit juice, house wine and beer, as well as local spirits while at the lodges

National park fees

Laundry (excluded at Hansa Hotel & Terrace Bay Lodge)

Scheduled activities

Road transfers

All internal charters on a seat-rate basis, as specified in the detailed safari itinerary
This safari has set departure dates:
​2019
25Aug19 – 07Sep19
19Sep19 – 02Oct19
10Nov19 – 23Nov19
09Dec19 – 22Dec19
2020
09Jan20 – 22Jan20
10Feb20 – 23Feb20
15Mar20 – 28Mar20
09Apr20 – 22Apr20
14May20 – 27May20
05Jun20 – 18Jun20
03Sep20 – 16Sep20
15Oct20 – 28Oct20
10Nov20 – 23Nov20
07Dec20 – 20Dec20
Need help?
Let us help
We specialise in creating tailor-made, exceptional safari experiences to the best wilderness areas in Southern Africa. 
While we do offer set itineraries and packages, our regional specialists are experts at creating bespoke safaris to match your wish list, budget, specific requirements, and travel dates.