Big Game, Desert and Dunes: A Self-drive Adventure
Namibia is one of the best countries in Southern Africa for a self-drive tour because it has good tarred roads, low traffic numbers, and a welcoming combination of excellent accommodation (much that is child-friendly) and great scenic beauty.
Self-drive holidays are ideal for travellers and families who enjoy being in control and setting their own pace. You will have everything in place for a carefree journey around this fascinating country.
Namibia – highlights to visit on a self-drive safari
Etosha National Park
Regarded by those in the know as one of Africa's greatest wildlife reserves, the 22 750 km² Etosha National Park is one of the easiest, safest and most rewarding big game destinations in Southern Africa. Families on a self-drive safari will appreciate the good roads and wide range of animals; photographers will be awestruck by the action at the game-packed waterholes; and honeymooners will love the range of exclusive luxury accommodation located on the park's borders.
Dominated by the Etosha Pan, a 5 000km² seasonally flooded depression, Etosha National Park is an area of open, grassy woodland and thick scrub, studded with waterholes. Yet despite its arid appearance, the park is packed with game, such as elephant, giraffe, lion, leopard and zebra as well as desert antelope, like springbok and the handsome gemsbok.
It's also one of the best places in Southern Africa to see the endangered cheetah and black rhino not to mention rare antelope species like black-faced impala, Damara dik dik and roan antelope. Birders will also be spoilt for choice – there's a bird count of 340 species – and an interesting blend of savannah, water and desert birds. Game viewing is best in the May to October dry season as animals are concentrated around the waterholes.
Etosha is however a year-round destination and easy to experience as there is a wide range of accommodation both in the park and on its borders.  Given the huge size of the park, many visitors on an Etosha safari chose to spend a couple of days in each area to maximise their game viewing experience.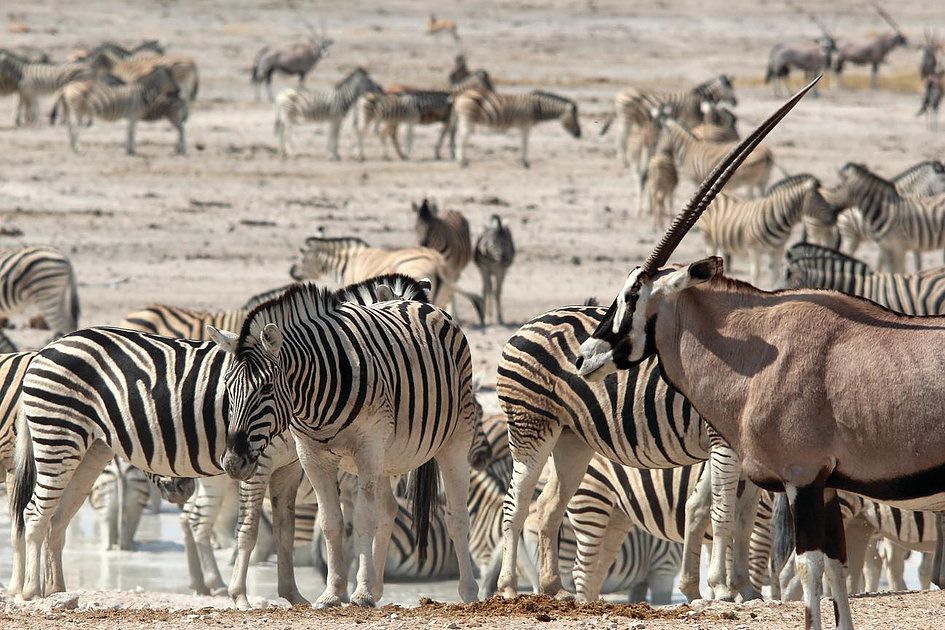 Damaraland
Like many environments in Namibia, Damaraland is more than it seems at first glance – if you're in the mood for some of Africa's most spell-binding landscapes, then a Damaraland safari will meet your expectations.  A loosely defined region that sits between the Skeleton Coast, the Etosha National Park and the even wilder and more remote Kaokoveld, the largely uninhabited Damaraland is an area of dramatic, harsh geology. The mountainous scenery is genuinely breathtaking and the night sky a carpet of stunning stars.
The wetter northern section of Damaraland is a place of flat-topped mountains and snaking river courses, acacia woodland and rolling grasslands. The drier, starker southern portion of Damaraland was subjected to immense volcanic action in prehistoric times, which has given rise to some of the region's most notable geographical features, including the Burnt Mountain, Doros Crater, the Petrified Forest and the Organ Pipes.
But it is for the rock art at Twyfelfontein that Damaraland is perhaps most famous. Known informally as the greatest outdoor art gallery in the world, this World Heritage Site is home to around 5 000 carvings and paintings, created some 6 000 to 10 000 years ago by Stone Age and later Khoikhoi hunter-gatherers who lived in the area.
Damaraland is home to many of the large mammals etched and drawn onto the sandstone rocks at Twyfelfontein, including the famous desert-adapted elephant, the rare mountain zebra, the highly endangered black rhino and even lion. Private concession areas offer superb safari accommodation with expert and passionate local guides who will introduce you to this remarkable region on day and night game drives, nature walks, game tracking expeditions and stargazing evenings.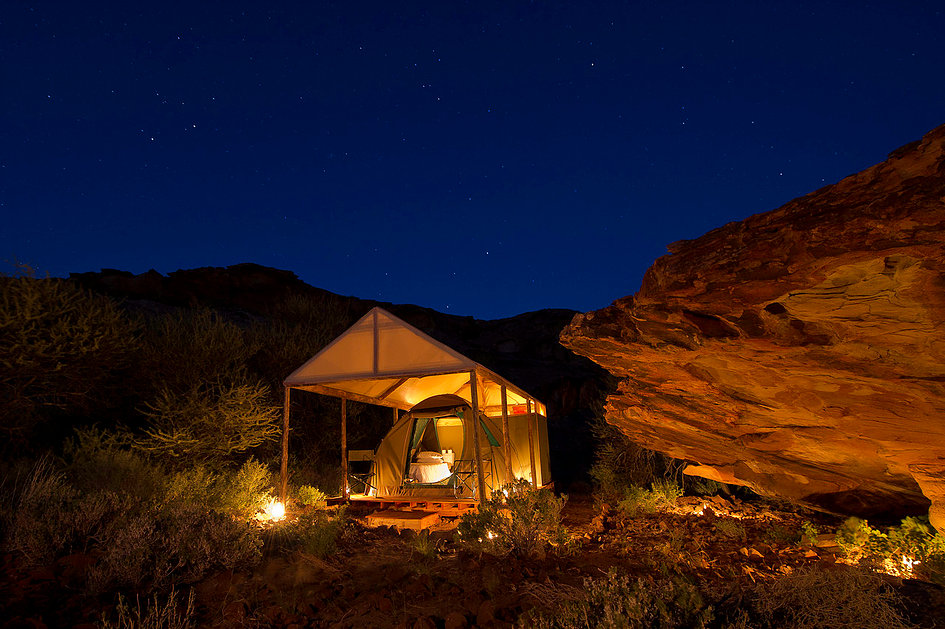 Skeleton Coast
The Skeleton Coast extends from the Ugab River in the south, 500 km to the Kunene River in the north. The attraction of this remote area lies in the vivid colours, changing moods, and untouched landscapes. The many shipwrecks along the coastline give it an aura of mystery and impenetrability.
Springbok, oryx, ostrich, hyena and ostrich are fairly common, while Namibia's famous desert elephant, black rhino, lion and giraffe are found in the dry river beds. Visitors to the Skeleton Coast Park are only allowed in the park between sunrise and sunset, and permits are available at the two entry gates.
Stay in the heart of the Skeleton Coast at Shipwreck Lodge.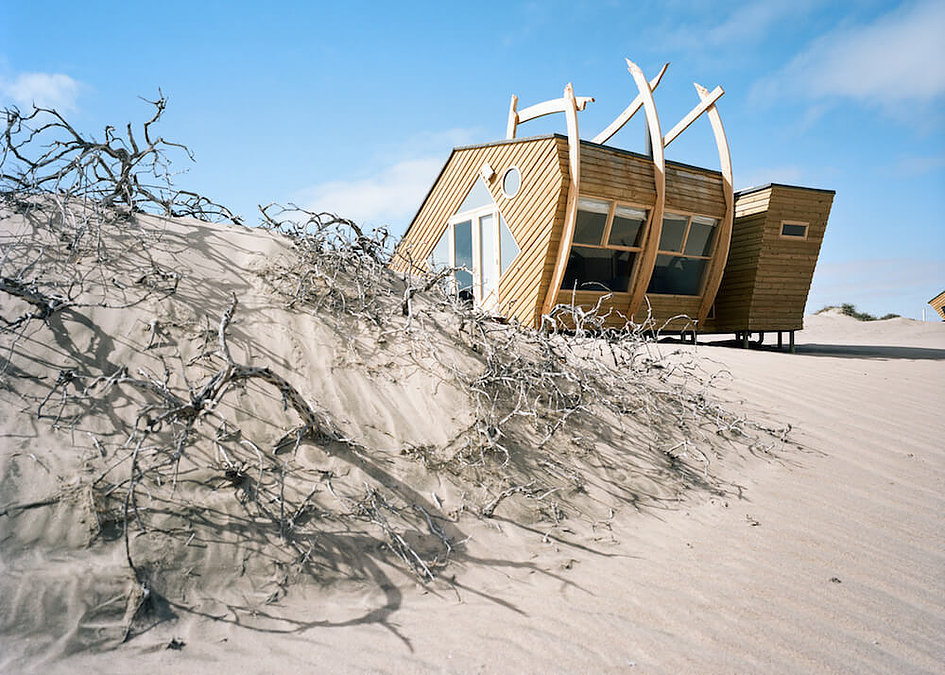 Swakopmund
Approaching Namibia's Atlantic coast via the roads from Windhoek, Walvis Bay or the Skeleton Coast, you'll be greeted by the incongruous sight of Bavarian church spires and palm trees rising into view through thick coastal fog. This is friendly Swakopmund, Namibia's second biggest town and traditional summer capital.
A popular stopover on many Namibia safari itineraries, it's also the perfect place for those on a self-drive holiday to restock and get some rest between visiting the dunes of Sossusvlei and the attractions of northern Namibia – there are great places to stay and there's plenty to do.
Just outside town, a number of towering sand dunes are the scene of all sorts of adventure activities, including sand boarding and skiing, quad biking, camel rides and off-road driving. Other activities in the area include boat trips in search of dolphins and seals, scenic flights over the desert and rewarding bird watching tours. Photographers will be awestruck by the extraordinary 'Moon Landscape', a seemingly never-ending range of bizarre, barren hills resembling the Lunar Sea of Tranquillity. It is best visited at sunrise or sunset.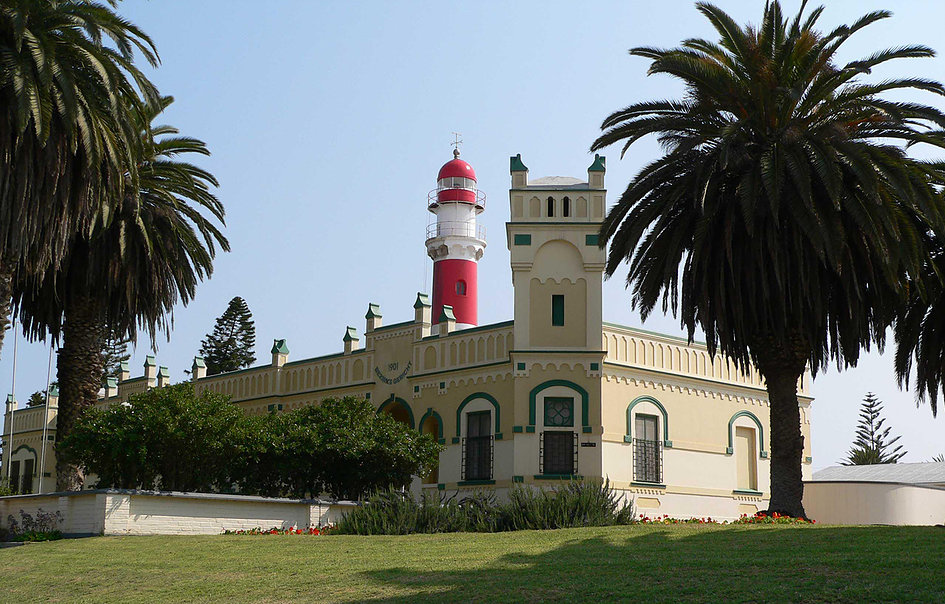 Sossusvlei
The rich-ochre sand dunes at Sossusvlei are undoubtably one of the most astonishing sights in the world. Set at the heart of the Namib Naukluft National Park, the dunes surround several dry pans or vleis that fill up on the rare occasions that enough rain falls. Most of the time however Sossusvlei and its slightly less famous neighbour Deadvlei are bone dry.
A Sossusvlei safari is one of Namibia's top travel experiences: the desert colours are simply astonishing and the opportunities for incredible photography are plentiful, especially at dawn and sunset. You can even go up the dunes yourself: not far from the entry gate to the park is Dune 45, a much-photographed and often-climbed dune.
Included in just about every one of our Namibia safaris (and for good reason!) these magnificent dunes are equally accessible to those on a Namibia self-drive holiday. There is plenty of excellent accommodation in the area, and while a 2WD vehicle will take you most of the way to Sossusvlei, a 4X4 is needed to go all the way. For the final few kilometres, a 4WD shuttle is available.
Many lodges are on the border of the Namib Naukluft National Park, often in private concessions. This means that they can offer game drives and nature walks, along with visits to the dunes. Other activities in the area include hot-air balloon safaris, stargazing evenings and horse-back adventures.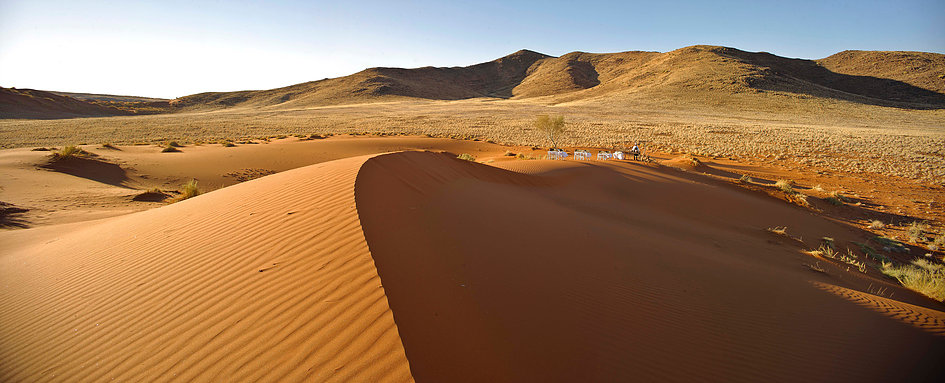 Our full guide to a Namibia safari breaks down the essentials like budgets, the best time to go, how to plan your trip, and much more. Download our Namibia e-mag over here.