Best Okavango Delta Tours & Safaris
The Okavango Delta is a spectacular, remote wilderness, and a hard-to-beat wildlife viewing destination. Soak up the wonders of this pristine area on 4X4 game drives, guided island walks, boating safaris and canoe trips.
Despite the wild nature of the Okavango Delta, you won't be left wanting if it's comfort and luxury you are after. The Delta offers a selection of excellent safari lodges and tented camps, several of which rank among the most luxurious and romantic in Southern Africa.
A trip to the Okavango Delta also combines easily with Botswana's other prime game viewing areas such as the Chobe National Park, the Linyanti swamps and the Central Kalahari Game Reserve, as well as the mighty Victoria Falls.
Our selection of Okavango Delta tours and safaris is widely varied and caters for time and budget specifications, as well as a variety of interests. If you can't find one that meets your requirements, rest assured that one of our safari experts will tailor-make the perfect Okavango safari for you.
Best Time to Visit the Okavango Delta
Due to its permanent wetlands and abundant resident wildlife, the Okavango Delta is a year-round safari destination.
June to August is high water season, with opportunities for boating and canoe safaris. Many animals migrate to the Delta at this time of year, and the resulting excellent game viewing and the mild, dry and largely mosquito-free winter climate make this period the best time (and high season) for an Okavango Delta safari.
September and October are hot and dry, but also particularly good months to visit the Okavango Delta, as animals are concentrated in enormous numbers on its fringes (you'll find the Moremi Game Reserve especially worthwhile at this time).
November to April is the rainy summer season, and sees the Okavango Delta transform from an excellent bird watching destination to a sensational one.
Where to Go in the Okavango Delta
Pristine and untouched, the Okavango Delta is a complex natural ecosystem that varies in size and character according to season. Angolan floodwaters from June to September can double the size of the permanent swamps at the heart of the Delta, but it's important to remember that large areas of the Okavango Delta are dry woodland, thick riverine forest and grassy floodplains throughout the year.
To ensure your expectations are met, work with a safari expert when planning where to go in the Okavango Delta, and at what time of year.
Moremi Game Reserve: one of Africa's best reserves
Lying to the east of the Okavango Delta, the Moremi Game Reserve is one of Africa's most beautiful and wildlife-dense conservation areas. You'll find mind-blowing game viewing in Moremi's diverse ecosystems: elephant, buffalo and lion sightings are common, the bird watching is amazing and it's famous for its leopard and wild dog.
Several excellent lodges are located in Moremi, and on its fringes, and you'll be able to participate in land-based (game drives and walks) as well as water-based activities (boat and canoe trips).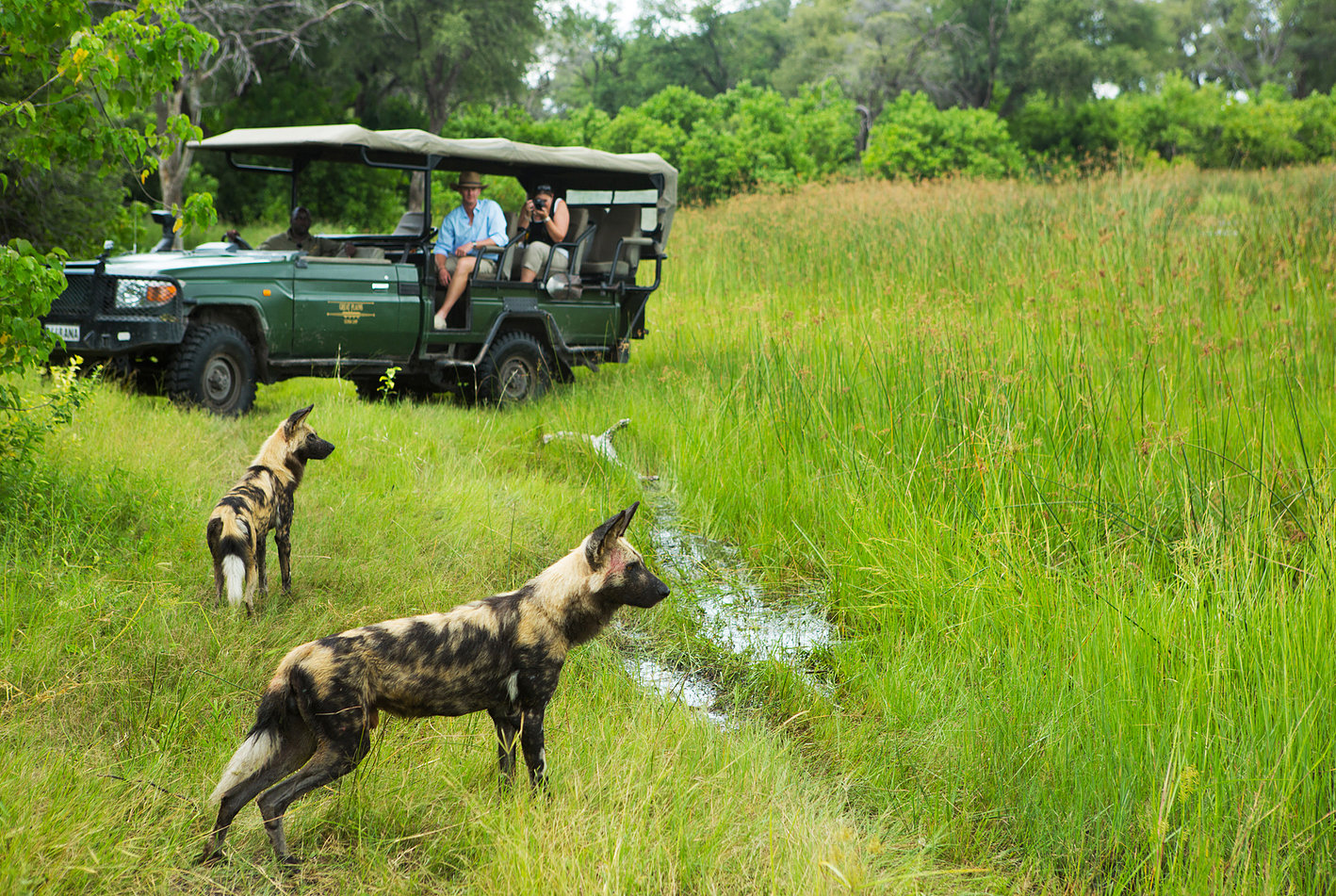 Chief's Island: walking safaris
An oasis of permanent dry land at the Okavango Delta's core, and part of Moremi Game Reserve, Chief's Island is big game country. Some 60km long and around 10km wide, the island offers game drives, guided game walks and water-based activities.
The island's diverse range of habitats make for a bird watcher's heaven, and Chief's Island is home to all the major predators including good numbers of wild dog.
Private concessions: exclusivity, night drives and off-roading
Gathered around the Moremi Game Reserve are private concessions – sole-use areas of the Okavango Delta leased and run by individual operators. Choosing a private concession for your Okavango Delta experience is a great option –  private concessions deliver game viewing as good as Moremi's, but most only accommodate one or two lodges and so the low number of visitors means a very exclusive experience.Furthermore, operators in private concessions aren't bound by Moremi's strict regulations and offer night drives and off-road driving, enhancing your wildlife viewing potential.
Okavango Delta Safari Travel Advice
Water camps v land camps
Make sure you know exactly what kind of camp you are planning to visit. Although most camps offer a range of activities, lodges located at permanent water sites offer boating and canoe safaris throughout the year, whereas camps in seasonally flooded areas focus more on game drives and may not offer water activities during the dry season.
Moremi Game Reserve v Private Concessions
Moremi delivers incredible game viewing, but the adjoining private concessions offer a similar wildlife experience with the bonus of night drives, guided nature walks and off-road driving for close-up sightings, and far fewer visitors.
Bird watchers delight
The bird watching is fantastic in the Okavango Delta thanks to a mix of water and land ecosystems. Pel's fishing-owl, white-backed night-heron and slaty egret are among the star attractions.
Go on foot
An Okavango Delta safari offers the widest range of guided activities in Botswana – enjoy day and night game drives, motor boat trips, canoe safaris, and the adrenalin of a guided game walk.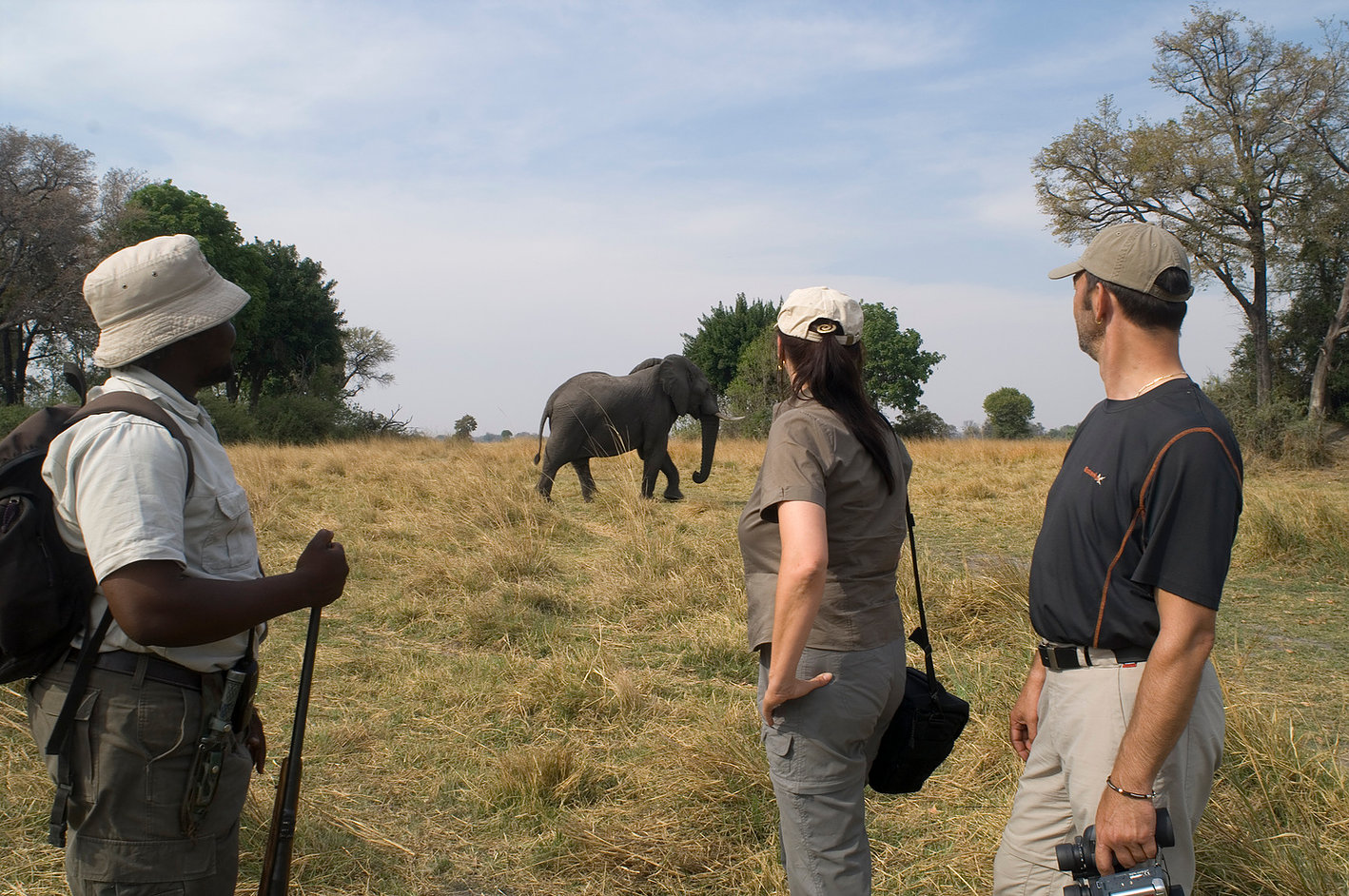 Wrap up in winter
Unexpectedly, warm clothes are a must from May to August – visitors on early morning game drives and late afternoon boat trips can expect temperatures not much above freezing.
Be prepared for close encounters
Accommodation in the Okavango Delta is unfenced, which means it's not unusual for anything from elephants to monkeys to wander through the lodge grounds. Adhere to safety rules laid out by the lodge, and remember that you are perfectly safe in your tent and inside the lodge buildings, but a guide will more than likely accompany you to and from your tent.
Download our free Botswana travel magazine for more info on this iconic African safari destination.