EAST AFRICA MIGRATION SAFARI
7 – 16 September 2020
Visit the Masai Mara National Park at the height of the zebra & wildebeest migration on our privately hosted and guided East Africa Migration Safari. During September the Mara will be packed with massive herds of zebra & wildebeest.

On this 10 day privately guided safari you can expect to see numerous crossing of the Mara River and plentiful general game – elephant, buffalo, crocs, hippos, Thompsons gazelle and of course the ever-present predators – lots of lion, leopard, cheetah and hyena – an epic African safari!
James Hendry will be your private guide for the safari. 
ITINERARY
Day 1: Nairobi (Crowne Plaza Nairobi Airport Hotel)
Welcome to Kenya. You will be met at Jomo Kenyatta International Airport and transfered to Crowne Plaza at Jomo Kenyatta International Airport.

Situated in along the Nairobi River in beautiful Kenya, the capital of Nairobi is East Africa's most cosmopolitan city. It serves as an excellent starting point for African safari trips around Kenya. Nairobi is Africa's 4th largest city and is a vibrant and exciting place, There are some fascinating attractions in this city, including its cafe culture, unbridled nightlife, the National Museum, the Karen Blixen Museum and most notably just 20 minutes from the city centre wild lions and buffalo roam in the world's only urban game reserve.

Crown Plaza Nairobi Airport Hotel is the only official hotel located at the Jomo Kenyatta International Airport. The hotel offers 144 spacious, adaptable, contemporarily designed rooms, with a large ergonomic working area consisting of suites, interconnecting rooms, double and twin rooms, convenient for business, family and leisure travelers. The hotel features a contemporary café with round the clock menu offering local and global cuisine, and a coffee shop a conference center and 3 meeting rooms.

Day 2, 3, 4 & 5: Borana Conservancy (Borana Lodge)
The Borana Conservancy is a non-profit conservation organisation dedicated to the sustainable conservation of critical habitat and wildlife. The conservancy's mission is to provide a sustainable ecosystem for critically endangered species on the brink of extinction such as the Patas monkey, Jackson's hartebeest, reticulated giraffe, greater kudu, African wild dog, elephant, rhinoceros and more. Borana has a dedicated team of over a hundred men, who are deployed day and night to protect the wildlife from commercial poaching. Visitors to the area can enjoy riding safaris, game drives, guided walks, mountain biking, helicopter trips, conservation activities, as well as buggies and quad bike safaris.

Borana Conservancy lies at the foot of Mt Kenya, a few miles North of the equator at 6,500 feet (almost 2,000 meters) above sea level. The Conservancy has a unique geographical situation which makes it a haven for a huge diversity of wildlife including black and white rhino, elephant, lion, leopard, Jackson's hartebeest, buffalo and great herds of antelope in the plains; while the cooler forest and rivers shelter bush buck, otters and leopard.

Borana Lodge is a the heart of Borana Conservancy, with a fantastic view of Mount Kenya. The lodge is perched on a hillside above a damn, where herds of elephant regularly gather to bathe at lunch time. The combination of privacy, natural beauty and an abundance of wildlife creates a unique setting for a truly memorable safari experience.

With two strings of experienced safari horses, game walks, mountain bikes, an abundance of birds, cross-cultural experiences and plenty of excuses for meals and nights in the bush there is never a dull moment at Borana Lodge. Topped off with an in house Safari Spa, there is something for everybody.
This truly is travelling with a purpose.

Day 6, 7, 8 & 9: Masai Mara National Reserve (Angama Mara Lodge) 
One of Kenya's undisputed natural highlights is the Masai Mara National Reserve, which sprawls across more than 1500 square kilometres of the country's southwest. The park protects a phenomenal array of game, including charismatic species such as elephant, lion, leopard and buffalo, as well as crocodile and hippopotamus in the Mara River. The birdlife is no less impressive, with over 450 resident bird species. However, the true highlight here is the Great Migration, recognised as one of the Seven New Wonders of the World.
To survive the dry months of July to September, some 1.7 million wildebeest, migrate from the parched plains of the Serengeti National Park in Tanzania. Along with much smaller numbers of antelope buffalo and zebra, they move to the more forgiving grasslands of the Masai Mara. In their wake come predators such as lion, hyena and cheetah, for whom these giant herds are an easy source of prey.

Angama Mara Lodge is a remarkable owner-run safari lodge. Located high above the floor of Africa's Great Rift Valley, Angama Mara Lodge overlooks Kenya's Masai Mara, considered by many as the loveliest game reserve on the continent. Guests will find two intimate camps of just fifteen tented suites each, a private airfield and access to the Mara below, tailor-made safari days and a famously warm Kenyan welcome. Days are as action-packed or as gentle as guests choose them to be. The Mara Triangle is home to Africa's great mammals, a mere 10 minute drive from the lodge, and guests can experience hot air ballooning, walking safaris, cultural visits to neighbouring Maasai villages – or simply do nothing at all.

Day 10: Nairobi – Jomo Kenyatta International Airport – SAFARI ENDS
Transfer by light aircraft from Angama Mara Lodge directly to Jomo Kenyatta International Airport for your onward flight
Price:
US$14, 000 per person
James Hendry, your private guide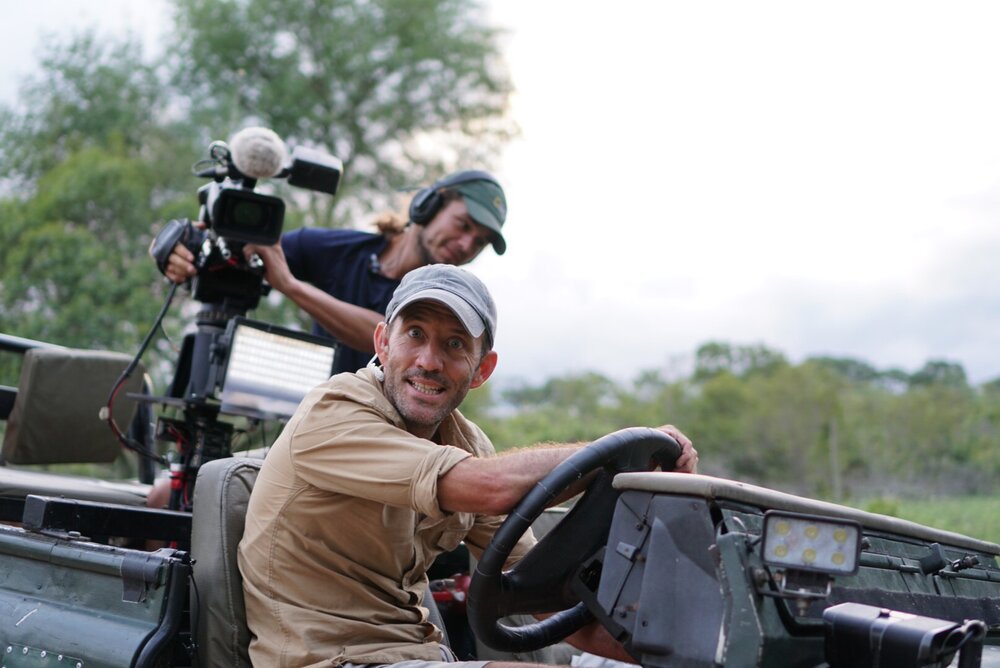 James is the consummate professional private guide with years of experience guiding in both Southern and Eastern Africa. A published author, musician, tv presenter and raconteur of note – James will add enormous value to any safari, with his signature wit, in-depth naturalist knowledge and unparalleled ability to entertain whilst unlocking the wonders of the African bush. 
Price
$14 000 per person
7 – 16 September 2020
10 days
PRICE INCLUDES:
Private Guiding services of James Hendry for the duration of your safari
Meet and greet at Jomo Kenyatta International Airport
Road transfer from Jomo Kenyatta International Airport to Crowne Plaza Nairobi Airport
One night at Crowne Plaza Nairobi Airport Hotel (bed & breakfast)
Road transfer from Crowne Plaza Nairobi Airport Hotel to Wilson Airport
Light aircraft transfer from Wilson Airport to Borona Lodge
4 nights at Borona Lodge (fully inclusive all meals, all drinks, all game viewing activities & entry fees)
Light aircraft transfer from Borona Lodge to Angama Mara Lodge
4 nights at Agama Mara Lodge (fully inclusive all meals, all drinks, all game viewing activities & entry fees)
Light aircraft transfer from Agama Mara Lodge to Jomo Kenyatta International Airport
Need help?
Let us help
We specialise in creating tailor-made, exceptional safari experiences to the best wilderness areas in Southern Africa. 
While we do offer set itineraries and packages, our regional specialists are experts at creating bespoke safaris to match your wish list, budget, specific requirements, and travel dates.