1. Jack's Camp, Botswana
The iconic Jack's Camp is our first of the safari lodges to visit in Africa as soon as possible! Jacks is an oasis of comfort and style in the midst of the Kalahari – think luxurious and stylish old-world tents, complete with bhukara-muslin draped walls, Persian rugs, and vintage lithographs, as well as a private museum, a swimming pool pavilion and a decadent tea tent.
Get up-close and personal with a group of wild meerkats, spend time walking in the wild with a group of San Bushmen, or head out on a game drive in search of desert-adapted species, such as lion, cheetah, oryx, brown hyena. During the green season (November through mid-May), this area is home to Africa's second largest zebra migration, a spectacle like none other on earth!
2. Phinda Mountain Lodge, South Africa
Whether you're on honeymoon, travelling with a private group, or taking the kids on safari, Phinda Mountain Lodge is a Big Five safari destination that will steal your heart. Child-friendly, with luxurious, spacious private suites, exceptional views, outstanding guides and trackers, and access to a selection of unique adventure safaris, a stay at Phinda Mountain Lodge makes for a once in a lifetime safari experience.
How to get there: Visit Phinda Mountain Lodge on our 7 day Beach & Bush Luxury Safari.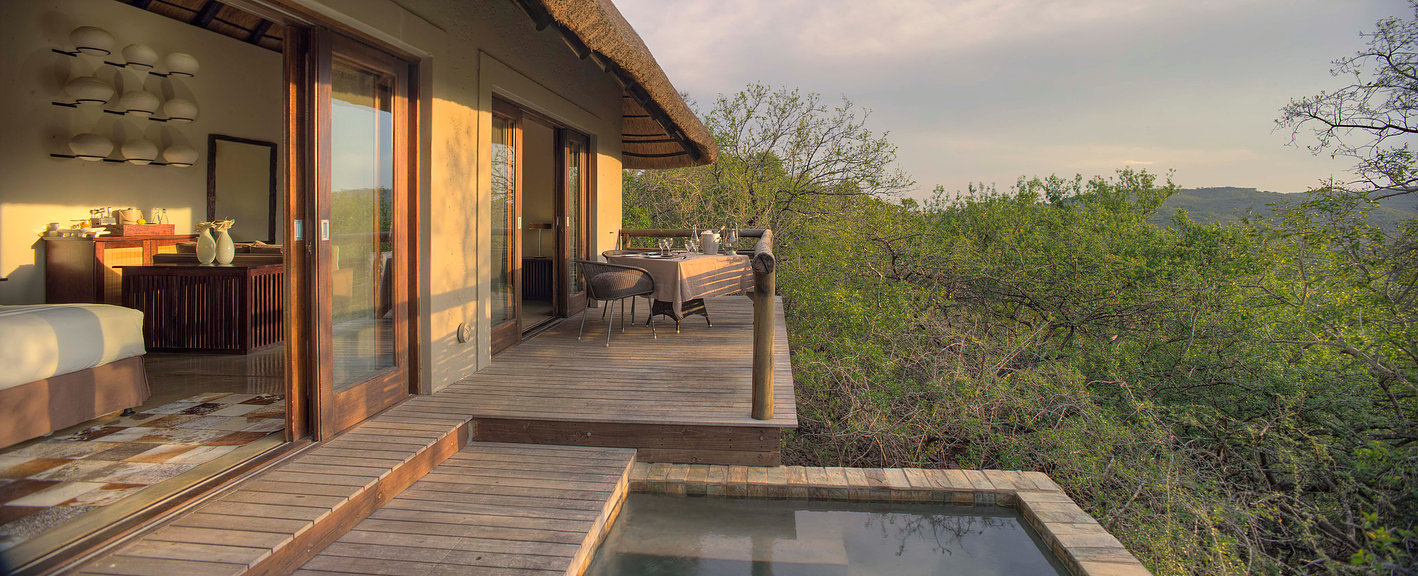 3. Somalisa Camp, Zimbabwe
Somalisa Tented Camp is an award winning tented camp set in the heart of Zimbabwe's flagship reserve, Hwange National Park. Nestled in a stunning location tucked away on an acacia island, along the edge of an ancient seasonal flood plain, Somalisa Tented Camp offers gorgeous views and authentic bush sophistication, and is renowned for its enormous elephant herds.
Visit Somalisa Camp on our 10 day Highlights of Zimbabwe safari.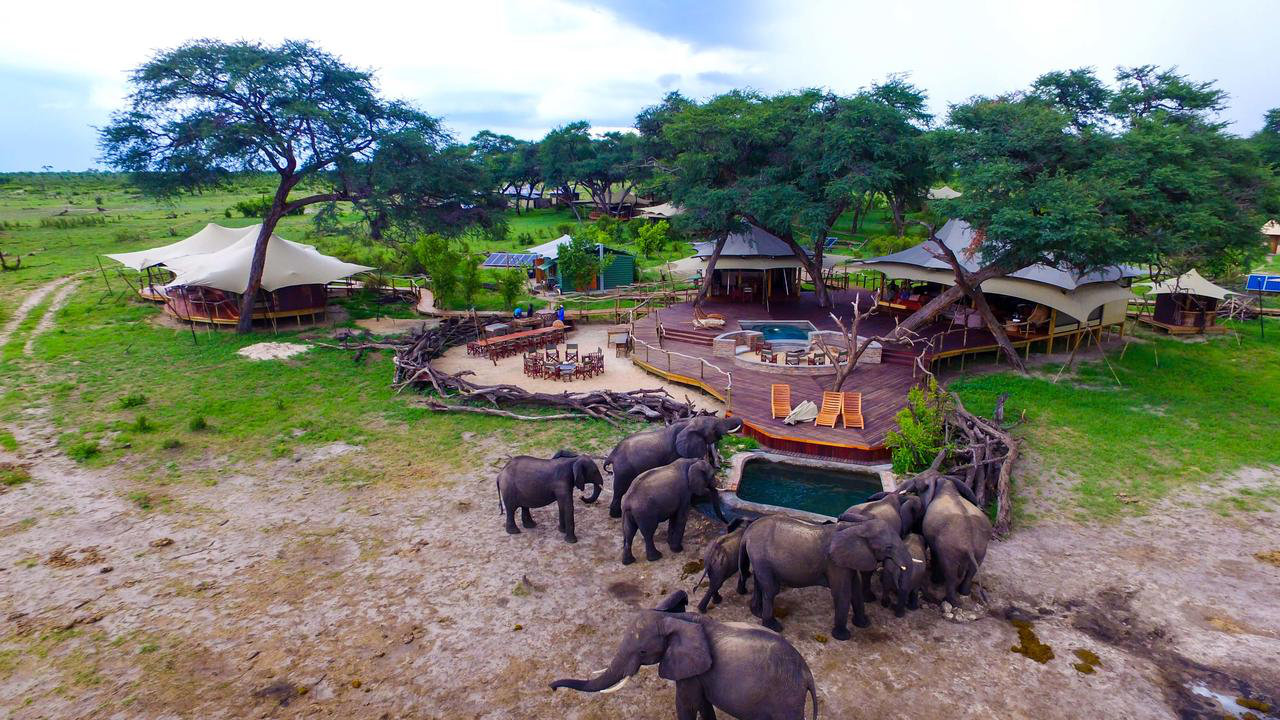 4. Grootbos Forest Lodge, South Africa
Situated just two hours from Cape Town, Grootbos Forest Lodge sits in the heart of Grootbos Private Nature Reserve, a luxurious pristine paradise showcasing the splendour of the Cape Floral Kingdom and the incredible marine life of South Africa.
Forest Lodge is the perfect central base to discover all the magnificent attractions of the Cape, and offers not only a chance to see the marine Big Five – whales, dolphins, sharks, seals and penguins – but also to take in the incredible beauty and intricate detail of the Reserve's rolling hills of fynbos.
Read more about Grootbos Forest Lodge over here.
5. Sable Alley, Botswana
Sable Alley is situated in the heart of Khwai Private Game Reserve, on the banks of a lagoon. Khwai borders the world-famous Moremi Game Reserve, which forms part of the Okavango Delta, and is known for its exceptional game viewing.
From the swimming pool, lounge and all the tents there are uninterrupted views of the resident pod of around 30 hippos, and the large herds of plains game, including elephant and buffalo, that come down to the lagoon to drink. Activities in the ecologically diverse Khwai include game walks and drives, and mokoro excursions, all in the hands of Sable Alley's expert guides.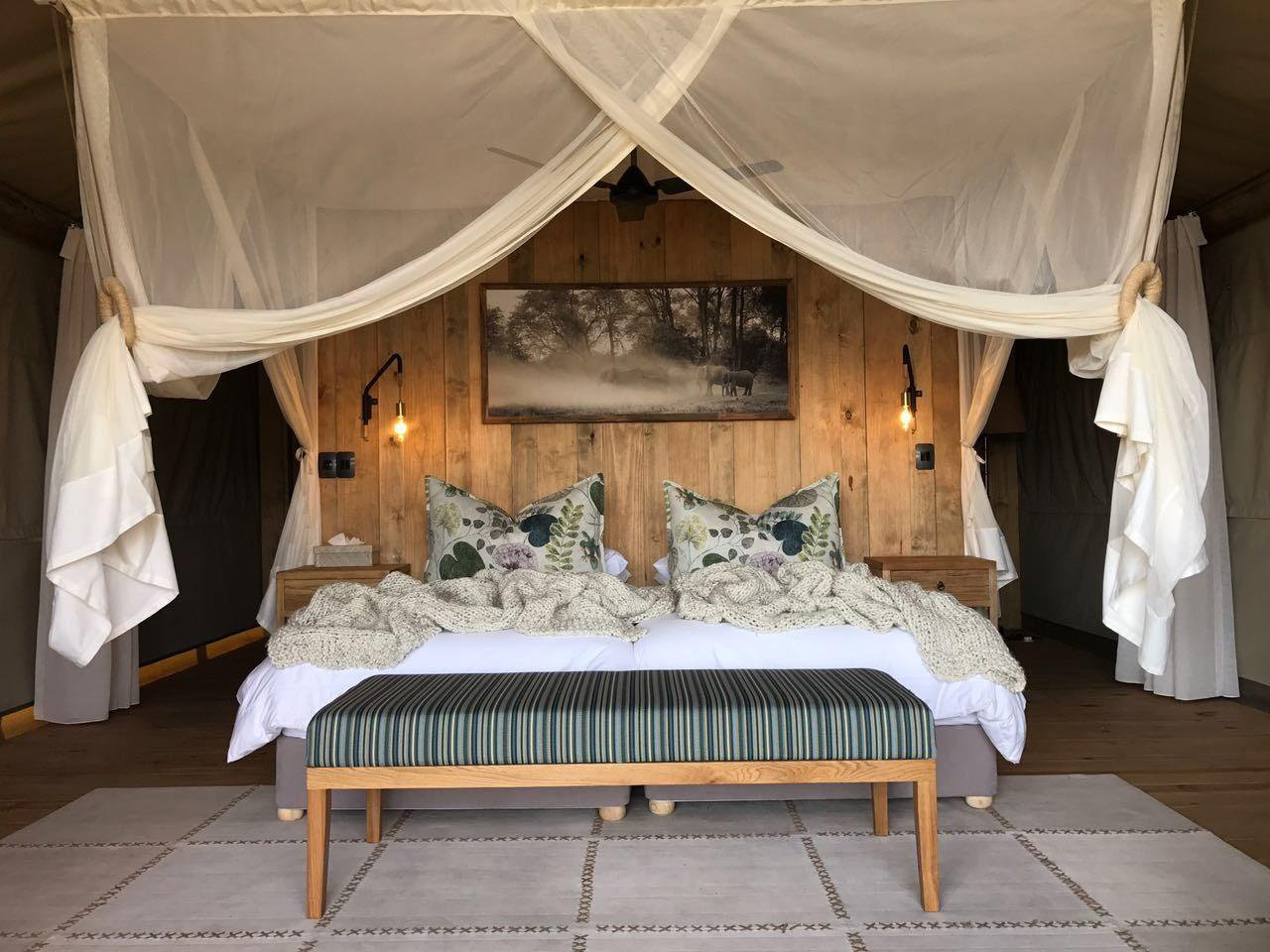 6. Tanda Tula, South Africa
Tanda Tula  is located in the heart of the Timbavati Private Game Reserve, which forms part of the Greater Kruger National Park. The nostalgic tented camp is positioned among shady trees on the banks of the Nhlaralumi Riverbed, and being completely unfenced, you'll find wildlife (including Big Five) wandering through the camp.
As one of South Africa's most luxurious tented bush camps, Tanda Tula offers guests first class game viewing with highly skilled guides and trackers, warm hospitality and award-winning cuisine. The intimate camp is renowned for its captivating down-to-earth atmosphere and passionate, knowledgeable staff.
Visit Tanda Tula on our Kruger & Cape Town Safari.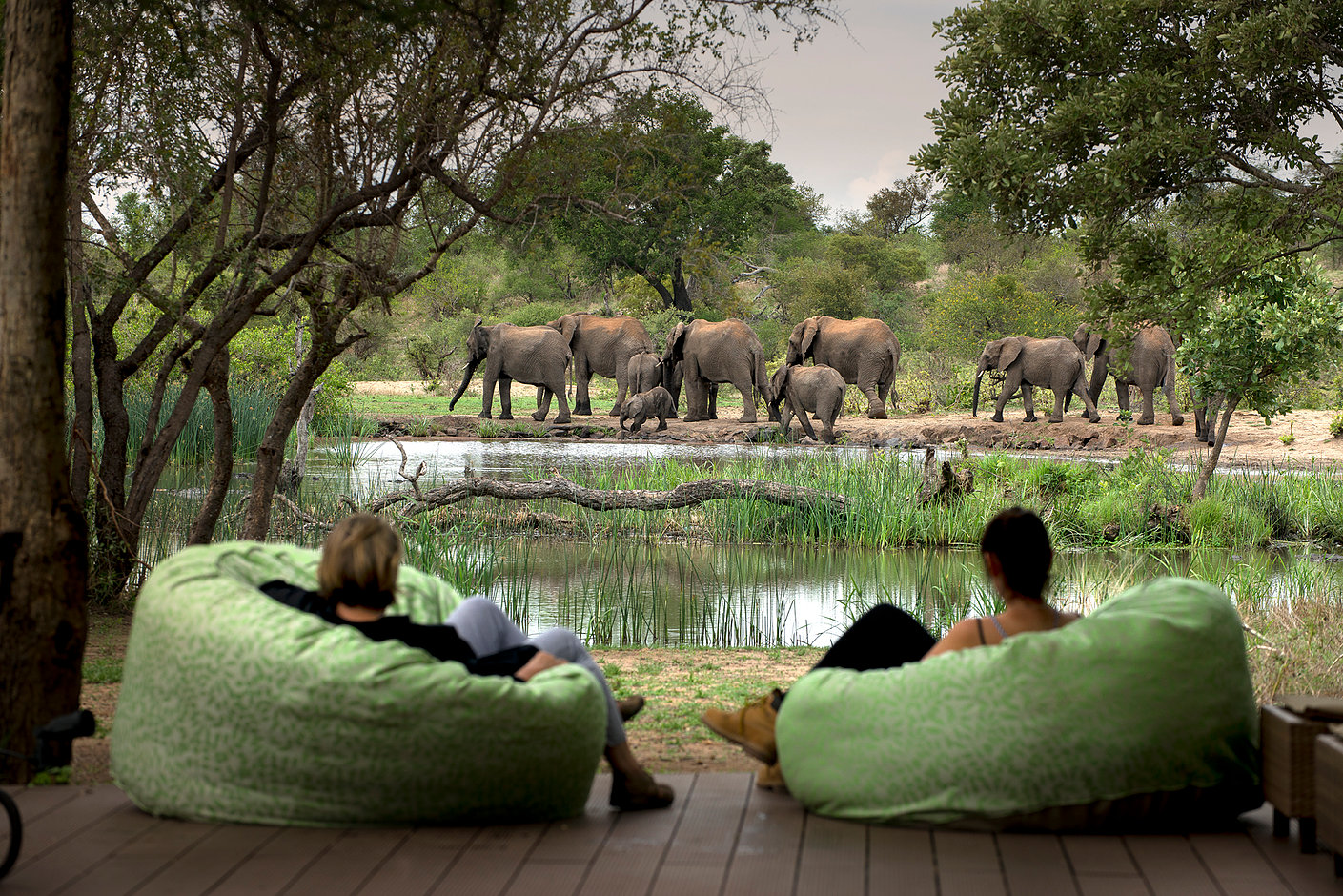 7. Hoanib Skeleton Coast Camp, Namibia
Hoanib Skeleton Coast Camp is a gem in the heart of remote, rugged Namibia, surrounded by little more than breathtaking scenery and the odd desert elephant.
Some of the highlights of a stay at Hoanib include taking in the vast, remote, isolated wilderness of Namibia, as well as special sightings of Namibia's distinctive desert-adapted wildlife, including elephant, cheetah, springbok, lion, brown hyena and oryx. The seal colonies that line the endless dramatic shores of the Skeleton Coast also make for fascinating viewing.
Visit Hoanib on our Namibia Desert Safari.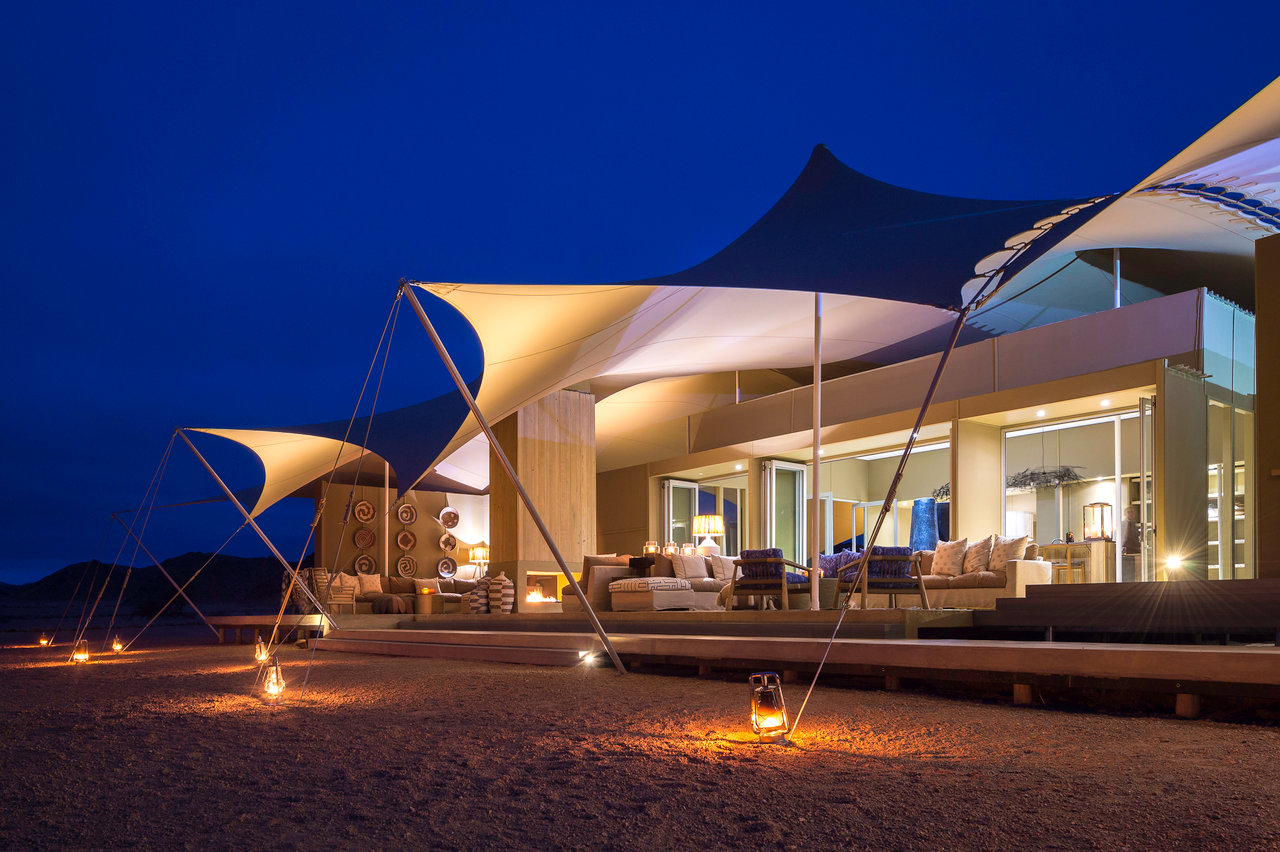 8. Tswalu Motse Lodge, South Africa
Tswalu Motse Lodge is the main property within the Big Five Tswalu Kalahari Game Reserve, the largest privately owned game reserve in South Africa. A stay here is all about experiencing the wonders of the Kalahari in five star luxury and comfort. Relax and unwind at the lodge's spa, around the swimming pool, or in the comfort of your immaculate suite. Children are kept busy on fascinating bush walks, star-gazing trips and sleep-outs.
Motse offers amazing Kalahari game viewing, rewarding birdwatching and a number of exciting safari activities, including guided walks across the dunes, game drives in safari vehicles, hot air ballooning,horse riding, and trips to Bushmen rock engravings sites in and around the reserve.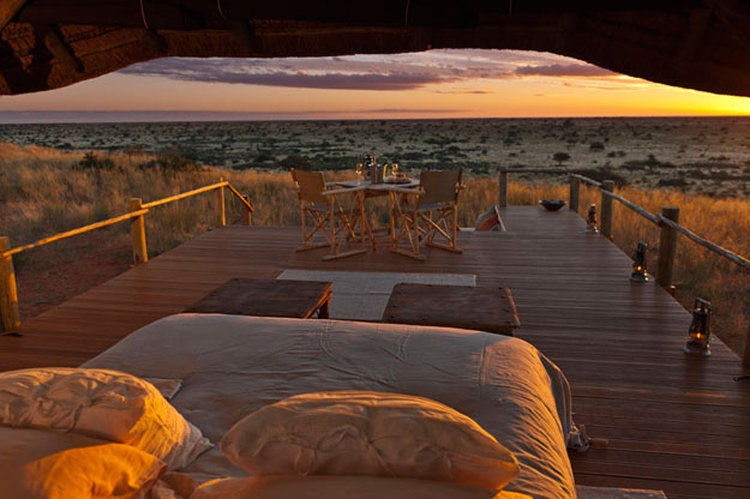 9. Mombo Camp, Botswana
Set within the immense wildlife paradise of the Okavango Delta is Mombo Camp, a private concession within Moremi Game Reserve. Mombo Camp is home to two famous groups of predators: the star of the renowned film, Eye of the Leopard, Legadema and her daughter Pula, and the Moporota pride of lions. Together these big cats offer thrilling game drives. Black and white rhino have also been reintroduced into the area, making for incredible Big Five game viewing possibilities.
Back at camp, you may have that familiar 'home from home' feeling as the tents are the size of some city apartments, swopping out-of-this world views over the plains for cityscapes. The rest of the camp is as luxurious, with two plunge pools, a gym, excellent dining and a nearby photography hide to get those once-in-a-lifetime shots.
Treat yourself to two nights at Mombo Camp on our Classic Okavango Delta Safari.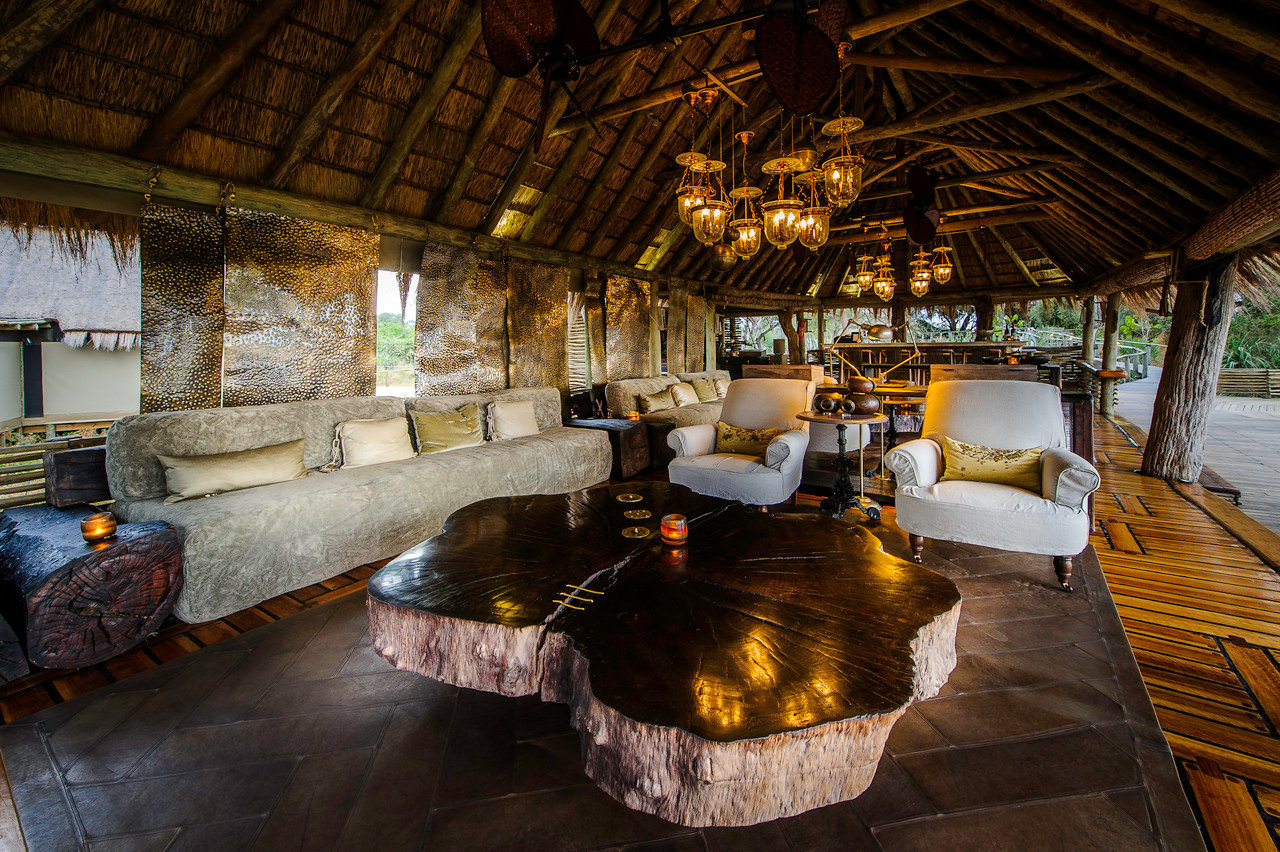 10. Dulini River Lodge, South Africa
Tucked away in a quiet corner of the famous big five Sabi Sand Game Reserve, Dulini River Lodge sits in grove of ebony trees right on the edge of the Sand River. This exclusive lodge also offers an unbeatable culinary experience and excellent, personalised service.
Experience excellent game viewing on morning, afternoon and evening game drives as well as guided walking safaris. For photography enthusiasts there are also photographic walking safaris on offer. While away the hours between game drives on the deep sofas in the guest area, or in the shade of the expansive giant sausage tree.
Visit Dulini River Lodge on our Kruger & Cape Town Safari.