There are few sights in the world that can rival the night sky of Africa, making a star-gazing African sleep-out a must-do experience.
You'll find little light pollution to interfere with sky-watching and only the sounds of the African night to lull you to sleep. With luxury tree houses, elevated sleep-out decks and sky beds, star beds attached to your suite, rustic nights out on a bedroll, there's a romantic stargazing experience for everyone. We've gathered up our top 10 favourite, utterly romantic African sleep-outs for stargazers.
1. Hyena Pan, Botswana
Hidden away in a private game concession, small and intimate Hyena Pan Tented Camp is a good choice for travellers looking for an exclusive safari on the fringes of the teeming Okavango Delta. The camp lies in the Khwai River area, a famously game-rich region bordering the Moremi Game Reserve and year-round home to elephant, buffalo, hippo as well as big cats, wild dogs and, of course, the ubiquitous spotted hyena.
Hyena Pan's 'sky beds' are located away from camp, set over permanent water holes, frequented by an abidance of game, particularly elephant. A night spent on one of these elevated and luxurious sleeping platforms makes for an unforgettable African safari experience.
2. Meno O Kwena, Botswana
Meno A Kwena is a bohemian style tented camp on the banks of the Boteti River, and has easy access to Makgadikgadi Pans and Nxai Pan National Parks. The entire camp is positioned along a cliff edge for optimal views over the Makgadikdagi Pans and the Boteti, and during the summer months (December to March) makes this the perfect camp from which to witness the vast zebra migration.
June to October is considered the dry season, and also the best time of year to visit the largest salt pans on the planet. Meno O Kwena offers guests the unique opportunity of a sleep-out on the pans, a truly magical experience in an ethereal place.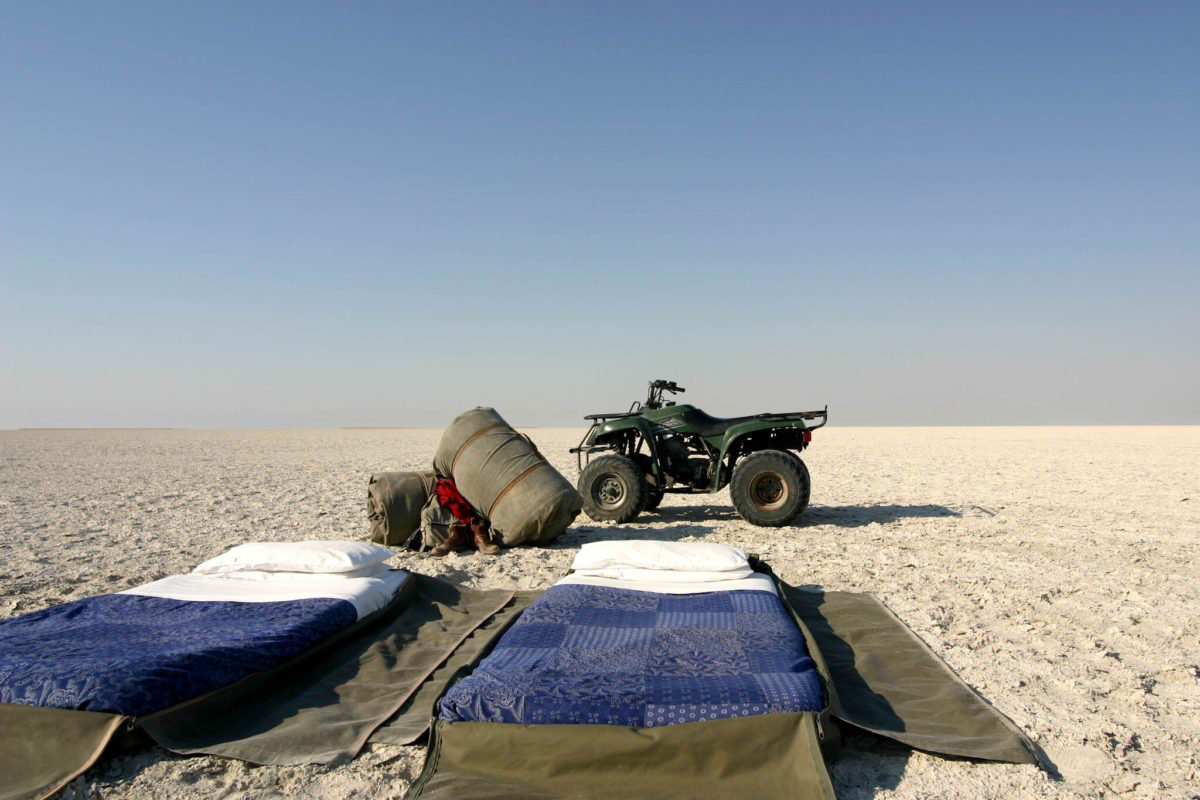 3. Kubu Island, Botswana
When combining two or three nights at either Jack's Camp, San Camp or Camp Kalahari, guests have the opportunity to take an epic quad bike journey across the Makgadikgadi Salt Pans, and sleep out under the stars for two nights on Kubu Island.
Kubu is one of the most beautiful spots in Botswana, and is full of intriguing detail and history, such as stone walls, trade and Bushman beads. It is also close to what is probably the biggest greater and lesser flamingo breeding site in the world.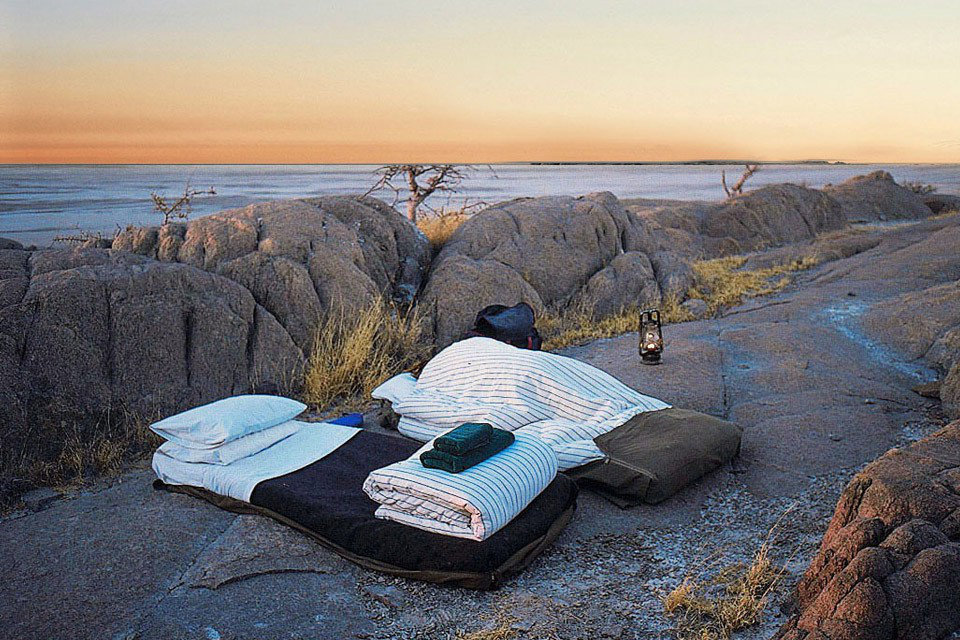 4. Elephant's Eye Lodge, Zimbabwe
Eco-style Elephant's Eye is situated 13km from the entrance to Hwange National Park on a private concession of 6000 acre, and offers a unique barefoot luxury experience. The concession has three waterholes, which are frequently visited by elephant, giraffe, buffalo, leopard, lion, plains game and many bird species.
The lodge offers guests a night out on their sleep-out deck, aptly named 'The Eye'. Spend a night under the stars and wake to watch elephants clustered around the waterhole having a morning drink.
5. Tswalu Kalahari, South Africa
Tswalu Kalahari is South Africa's largest private game reserve, protecting over 110,000 hectares of spectacular grasslands and mountains.
Tswalu offers an unrivalled wealth of experiences, including sleeping out under the Kalahari's diamond skies. The sleep-out deck, Malori (meaning 'dreamer' in Tswana), offers guests the unparalleled experience of sleeping safely in the wilderness.
From a distance, Malori looks like another sociable weaver's nest on the horizon. On closer inspection you will notice a raised platform and a thatched overhang with weather-proof blinds to protect you. You can choose to sleep under the thatch, or simply roll the bed onto the open deck with a carpet of bright skies as your ceiling.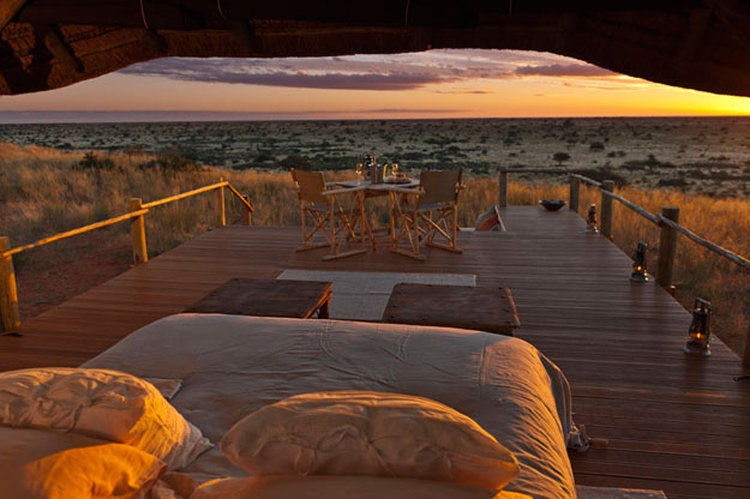 6. Ruckomechi Camp, Zimbabwe
From the elevated sleep-out deck at Ruckomechi Camp, in Mana Pools National Park, you'll have the possibility of exceptional game viewing, all from your bed!
The raised deck looks out over Parachute Pan, where a large variety of wildlife gathers, including elephant, buffalo, zebra, waterbuck, and kudu. Lion, leopard, and wild dog have also been seen at the pan, making for the possibility of an action-packed night under the stars! You'll drift off to sleep with a symphony of animal sounds and wake to the beautiful sunrise over the pan. And should you need any assistance during your night out, a highly qualified guide will be in a tent nearby.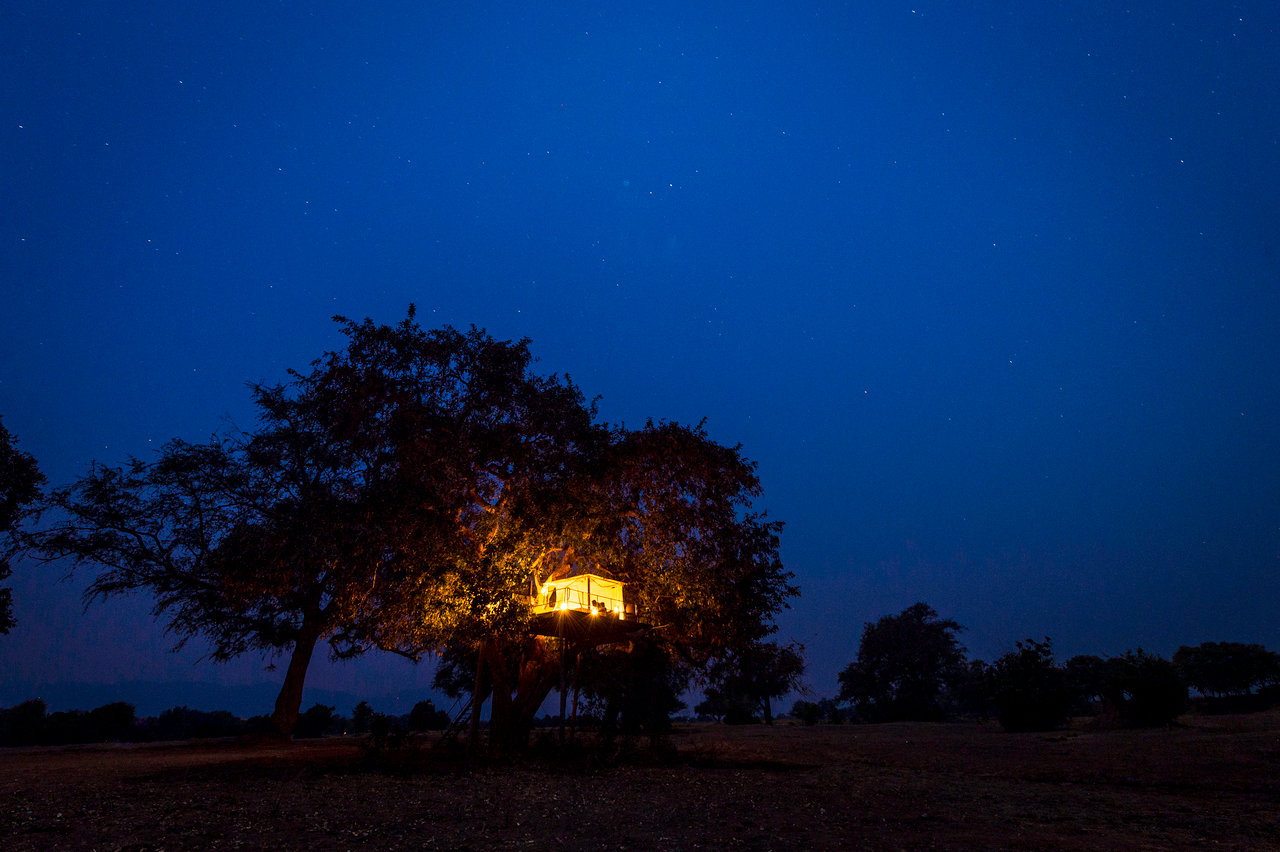 7. Norman Carr, Zambia
For the for adventurous, Norman Carr offers an overnight safari in the South Luangwa National Park you'll never forget.
Armed with a bedroll and a mosquito net, you'll venture out from camp on foot with a guide, and find a spot to make camp for the night in the remote Luwi dry river bed.  After a bush dinner and quintessential campfire story telling, you'll retire to your bedroll under your gauzy mosquito net and drift to sleep with a canopy of stars above your head.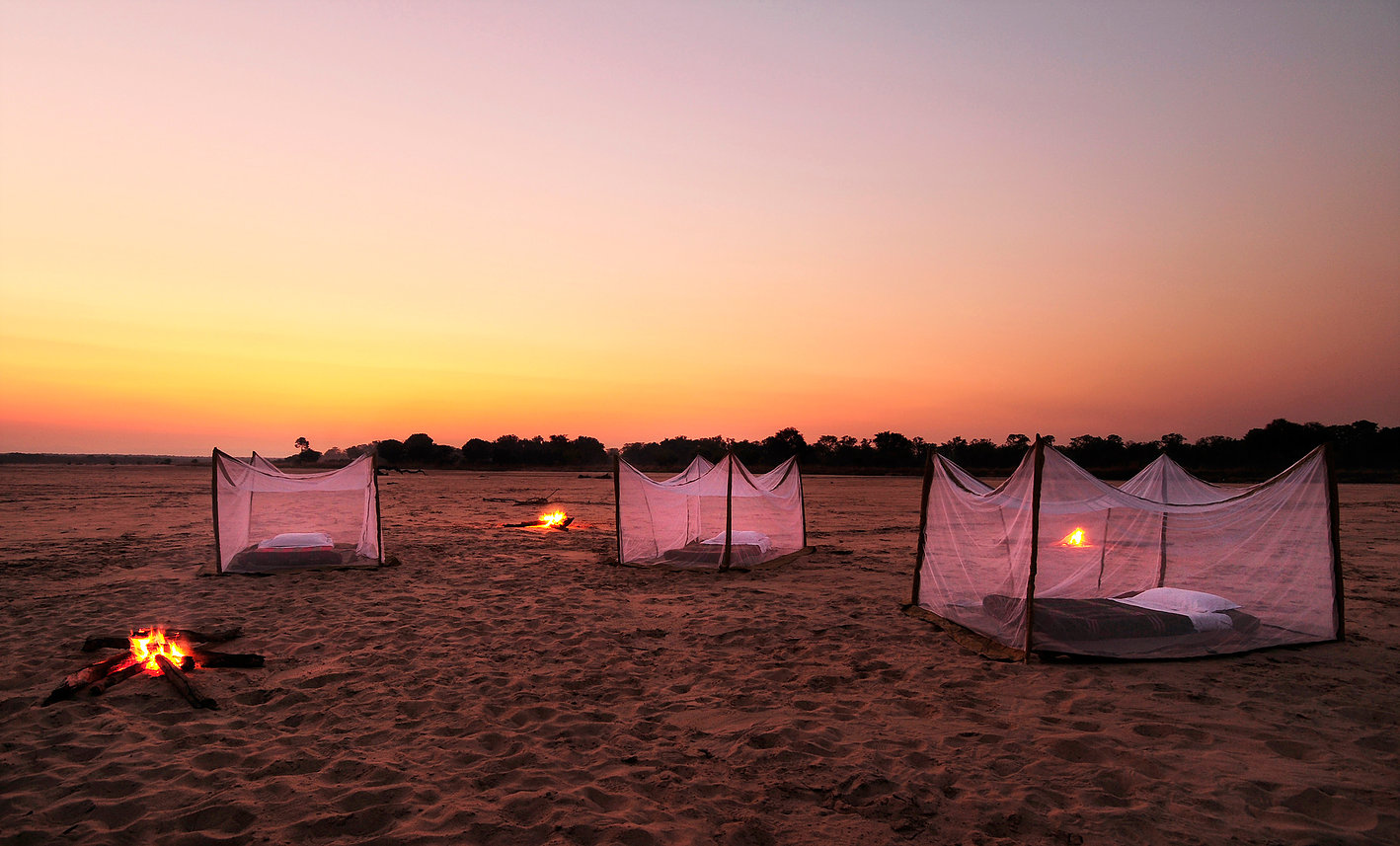 8. Kulala Desert Lodge, Namibia
The reed and canvas kulalas (or chalets) at Kulala Desert Lodge each have their own rooftop sleep-out platform. While the area is not densely populated with wildlife, a romantic sleep-out allows you to experience one of the clearest night skies in the world with no light pollution or much chance of rain in the desert.
Get there: Visit Kulala on our Namibia Desert Safari.
9. Tanda Tula, South Africa
Tanda Tula, in the game-rich Timbavati, offers luxurious sleep-outs at their Machaton Hide in the dry season (May to September), complete with oil lanterns, camper bed with cosy duvets and hot water bottles, a game viewing spotlight and a two-way radio.
Get there: Sleep out under the stars at Tanda Tula on our 11 day Kruger & Cape Town Safari.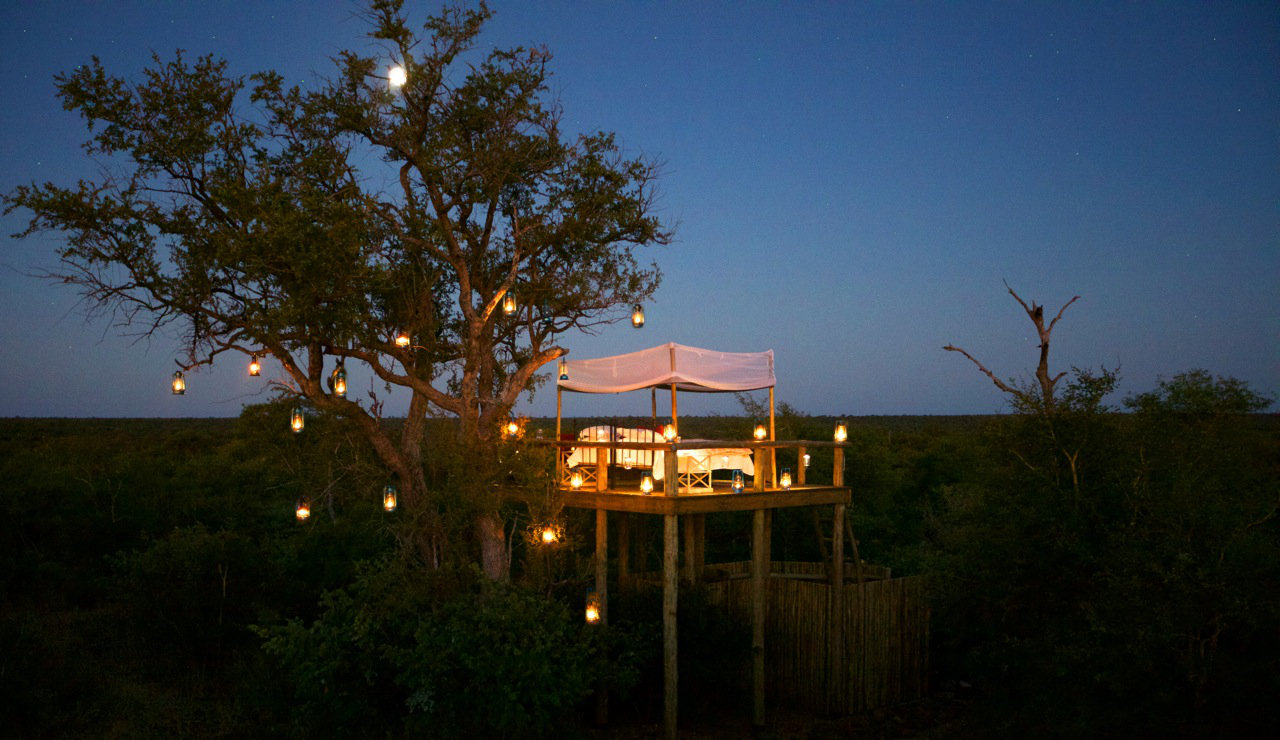 10. Azura @ Quilalea, Mozambique
While not strictly 'sleeping-out', the rooms at Azura @ Quilalea in the exclusive Quirimbas Archipelago, are as close as you can get to sleeping on the beach. Each rooms opens onto the beach and the shimmering Indian Ocean. And if that isn't enough, you have your own private hammock to drift away in, waking in time to yet another magnificent sunset over the azure sea.
Get there: Spend nights listening to the sound of waves and lapping water on the Best of Quirimbas island holiday.