Experience Zambia on foot
The South Luangwa National Park is widely regarded as of of the premier safari destinations in Africa, but it's frequented far less than other wildlife sanctuaries.  With its mosty flat terrain, it is also the perfect home to the walking safari.
Exploring this area on foot is possibly one of the most fantastic experiences one can have!  You'll be accompanied by a skilled guide, and get up close to the enormous variety of birds and mammals that call the South Luangwa home.  It's a safe and spectacular way to see the valley, and even in peak season, you'll probably not see another group.
You can choose from a one day trail, while staying at a lodge, to a week-long walk where you will sleep under the stars in mobile campsites each night.  A true 'Out of Africa' experience!
Speak to
Richard White
Founder and safari specialist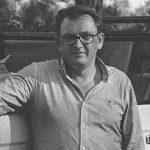 This 13 day participation safari takes you on an epic exploration of the best wilderness areas in Zambia. You'll see the most unspoilt and untouched wildlife areas in the world, teeming with birds and animals.
A 22 day small group participation adventure safari. We journey through the heart of the wild continent, from Zambia, Malawi and Mozambique, to South Africa. A fascinating safari along the old trade routes!